**This post has been in draft since August. Thought about saving it, but I'm just going to go ahead and finish it and put it out there.**
We finally were able to check float off our summer bucket list just in time for school to start!
We floated in the Lesterville area on the Black River with Horseshoe Ranch Campground and Floats. They're a small operation that is family-oriented, which we appreciated. We went on a Sunday and our exposure to drunk, young floaters was minimal. We did not camp the night before or the night of which is an unusual choice. The place we went through does offer camping and most float outfitters do. I think next year we will camp.
We did a six man raft, which was perfect for us. The raft is the least tippable option and while we did lose a few people after an unfortunate run in with a tree stump and Kareem lost his sunglasses, ultimately, we did pretty good.
When we hit that stump, Nick, Rami, and Kareem went flying out the raft. I did not notice because I was trying to stabilize until Nick yelled. I was able to get Nick to grab my oar, but Rami and Kareem were getting swept down. The river is not that deep, so I was telling Rami to touch the bottom. He was getting panicky, so finally I yelled in a deep voice RAMI SWIM TOWARDS THE SHORE AND TOUCH THE BOTTOM. He reacted to that. He had a hard time touching because of the current, but he got there. He did immediately swim sideways which helped a lot more than trying to swim back to me against the current. Then we tried to get Kareem. I was having trouble getting the raft to the side of the river, and I thought for a minute, well we are going to totally leave Kareem and Rami here! But I managed it and I felt very proud. At this point, I noticed another family down from us a little ways. They clapped for us, ha ha. They were in canoes and apparently had gotten it much worse through that point. But we all made it, and it was a fun story to tell later.
Jimmy fell out once, but it was at a slow part and we immediately grabbed him and plucked him out the river and back into the raft. Here he is post incident. Clearly very bothered by the whole situation.
Part of the fun of floating is the people you meet.
The Black River is definitely one of the best rivers in Missouri to float, though we are not without lots and lots of options here in our gorgeous, floatable state. We drug once which is not bad for this time of year.
The Black River is so clear with a rocky bottom! Very typical of the area. Very swimmable. Gorgeous scenery everywhere you look.
I will admit, though I am super adventurous, I was slightly nervous to take four kids and a dude who has floated once or twice as a young man on one of those kinds of floats we were trying to avoid. But we were safe and the kids had a blast. Properly fitting PFDs are an absolute must. We own ours because we do spend a lot of time in and around water with our children. It's an investment worth making!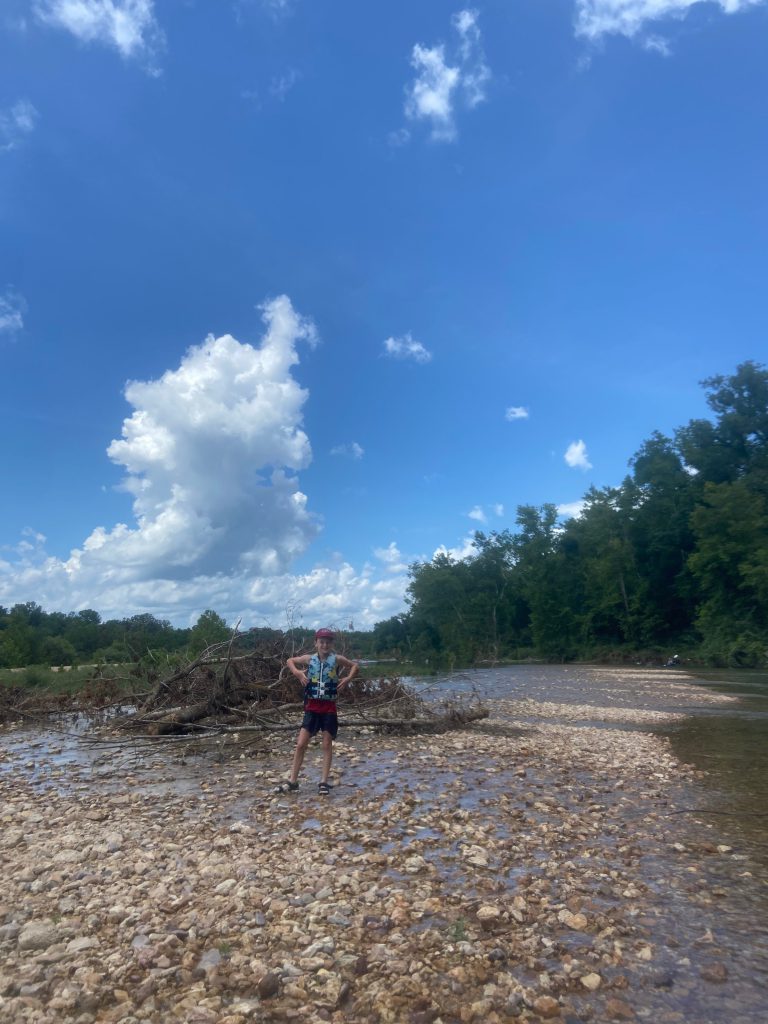 I was slightly concerned about the weather. They weren't calling for rain or storms, but you know you can feel it coming. And I just felt a pop up storm coming. You can see that high cloud there int he above picture. It rained very lightly just for maybe ten minutes while we were out- it was absolutely spectacular. I was worried we might have thunder and lightening- we did, but not until we were out of the river.
It was really cool to see the kids step up and help, and you could tell they felt more and more confident as the day went on.
We pulled out, the bus pulled up, and we all piled in. Moments later, thunder cracked, the sky opened up, and we were being driven like a bat out of hell down the dirt road on the side of that mountain. My kids (and I) did NOT enjoy this part at all. Lucy was crying, Nicky was praying, and I was doing some kind of holy mix of cussing and laughing while trying to remain calm for the kids.
We got back in one piece but definitely changed after that bus ride! We started home after that, and of course, everybody immediately fell asleep in the car.
All we wanted to do after this float trip was. book another one! Unfortunately, we didn't get to go again last year, but we are already talking about where we're floating next summer!