Starved Rock has been on my list for a long, long time. I finally visited and I have to say- it totally lives up to the hype! While I didn't see all of it and another visit is surely in order, what I did see was incredible and I was grateful to take my time and enjoy the majesty of this gem.
Quick Facts:
Starved Rock State Park is located in Illinois about three and a half hours from St. Louis or an hour forty-five minutes from Chicago.
It is the most visited state park in Illinois!
Features 18 sandstone canyons among bluffs, streams, and waterfalls on the south side of the Illinois river, making for spectacular sights
Amenities include camping, a lodge and restaurant, a visitors center, trolley and boat tours, and many events throughout the year including guided hikes
We started our day (very) early. We missed our turn and ended up coming through a delightful little town called Utica. I imagine this is hopping in the summer or maybe just at a nicer time of day, but literally everything was closed. We will definitely visit next time we are in the area!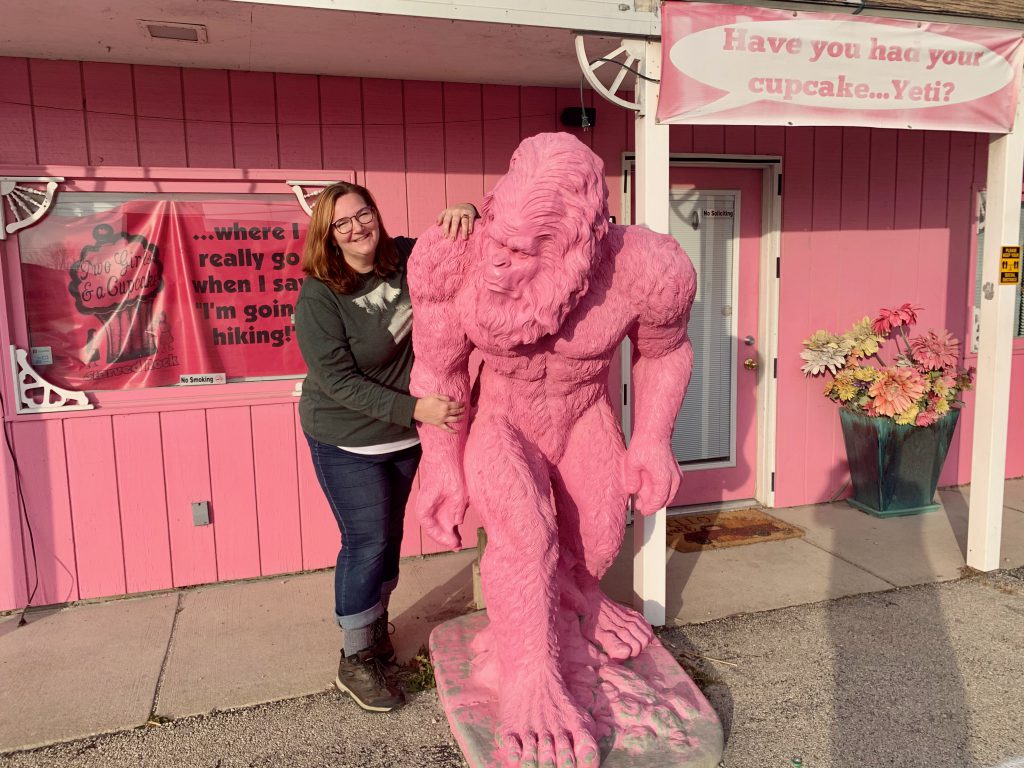 We started early with St. Louis Canyon trail. This was by far one of the most beautiful hikes I've done. We went early enough that it wasn't crowded whatsoever. As we took to the trail, we encountered one grandma and a small girl and one bow hunter (!) and that was it. The hike took much longer than I had anticipated (more on that later), so by the time we were leaving the canyon, there were more people. (More on this later too.)
You can access the canyon via a trail that begins by the lodge, or you can hike up to this trailhead from the visitor center, or you can park off 178 and hike in from there. This is the shortest method, but you will truly miss out! The 3-ish mile trail is an out and back trail. From the lodge trailhead, you pass by five other canyons that are gorgeous as well. In spring and summer, some of these canyons feature dramatic running water and waterfalls. Some were wet on our visit though, and all were gorgeous and grand.
The trail begins with a descent and right away you are treated with Aurora Canyon. Keep going for a beautiful trail through the woods, passing four more canyons. This trail is a bluff trail. I didn't have trouble with the height at all after the Sac Canyon. The trail is wide and this gives me comfort. There is a boardwalk for a while as well which leads you to stairs around a ledge and down. This is where I personally had a lot of trouble. It was not scary at all, but the anticipation was causing me a lot of anxiety because you could not see the whole staircase. What an analogy for life, right?? Anyway, when I did finally make it down, I felt silly for getting so scared. It was really lovely. Then the trail descends further and down a switch back- this is a very beautiful part of the trail. The trail here is very sandy.
After this, the trail follows alongside the stream. There are parts that you are on a ledge, but it is again not scary. Then you enter the St. Louis Canyon itself. It is absolutely magnificent.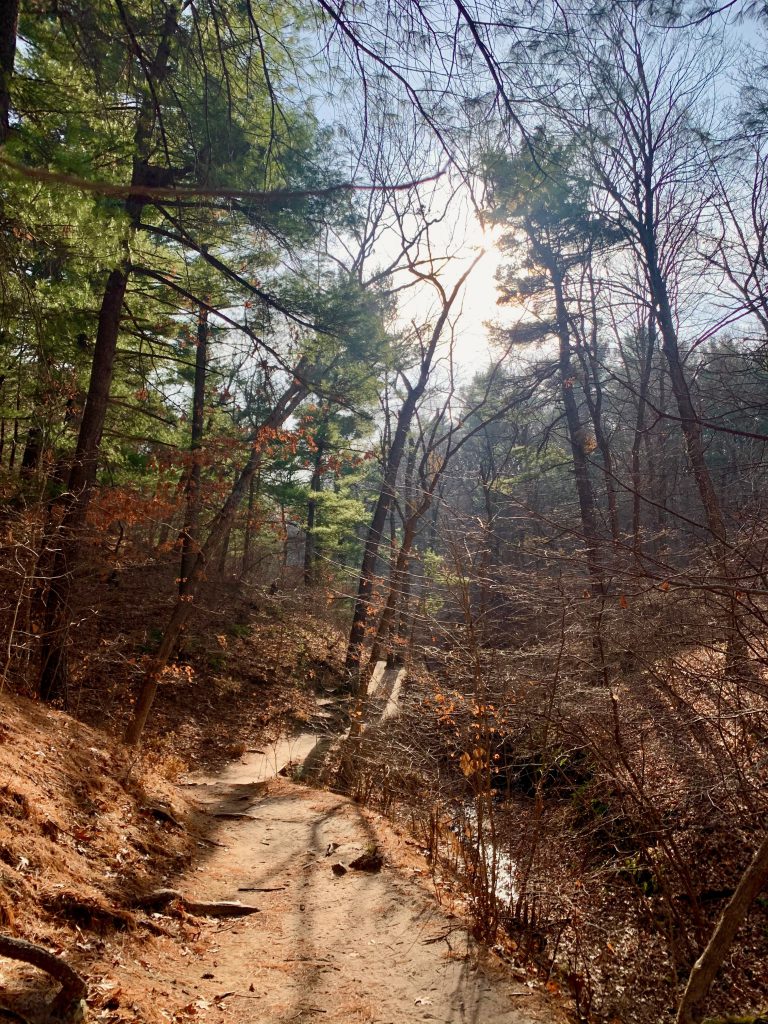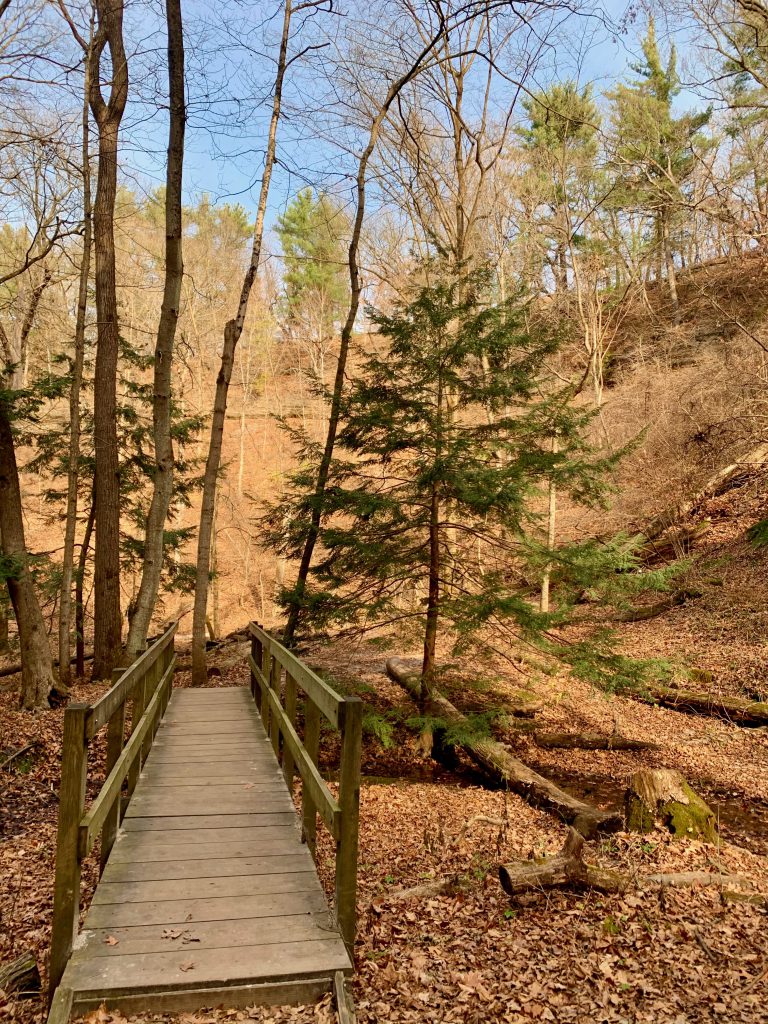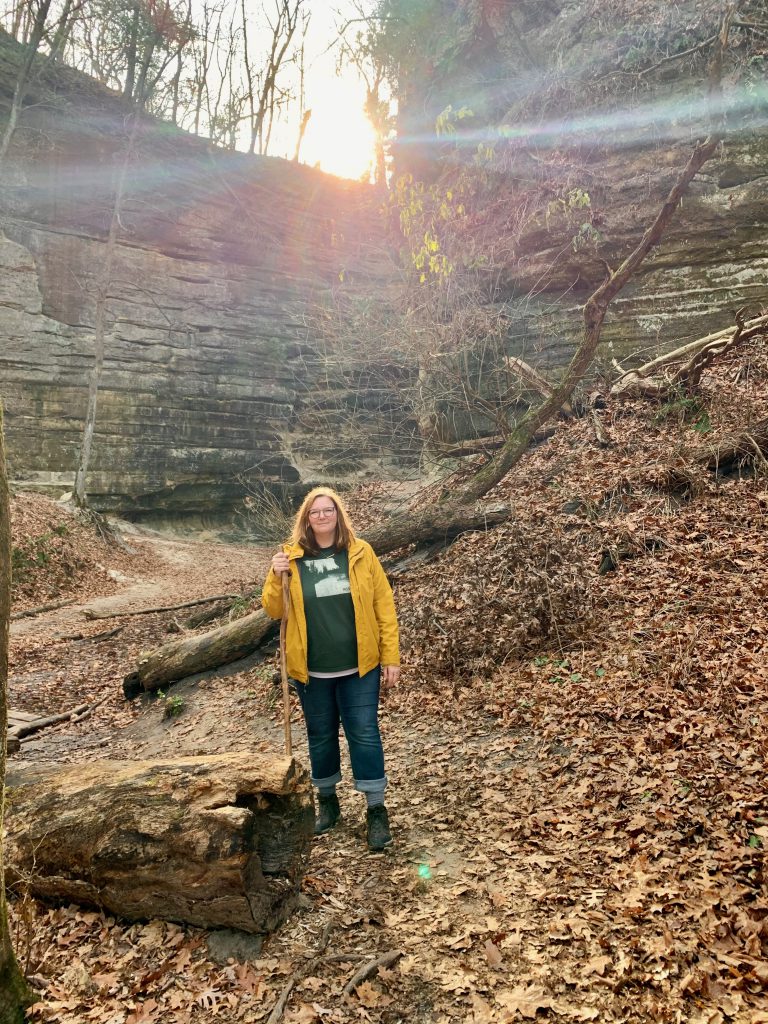 Beautiful sandstone bluffs rise all around you. There are great big boulders and you can hear the water falling over the ledge before you see it. There are some caves that are very tempting!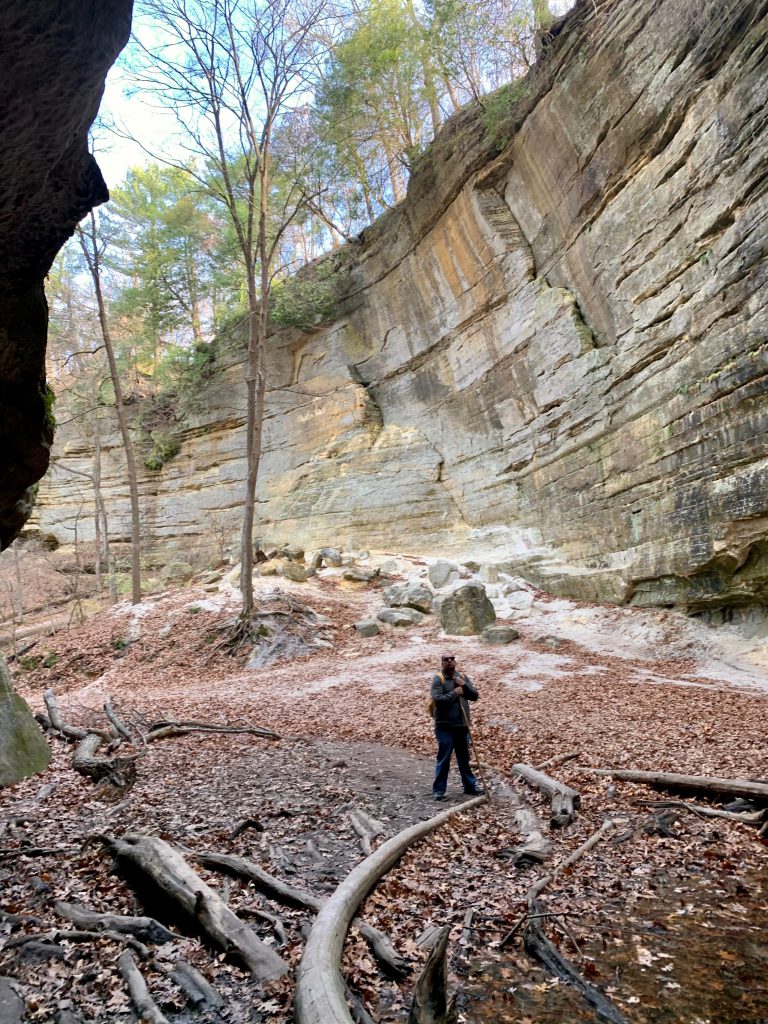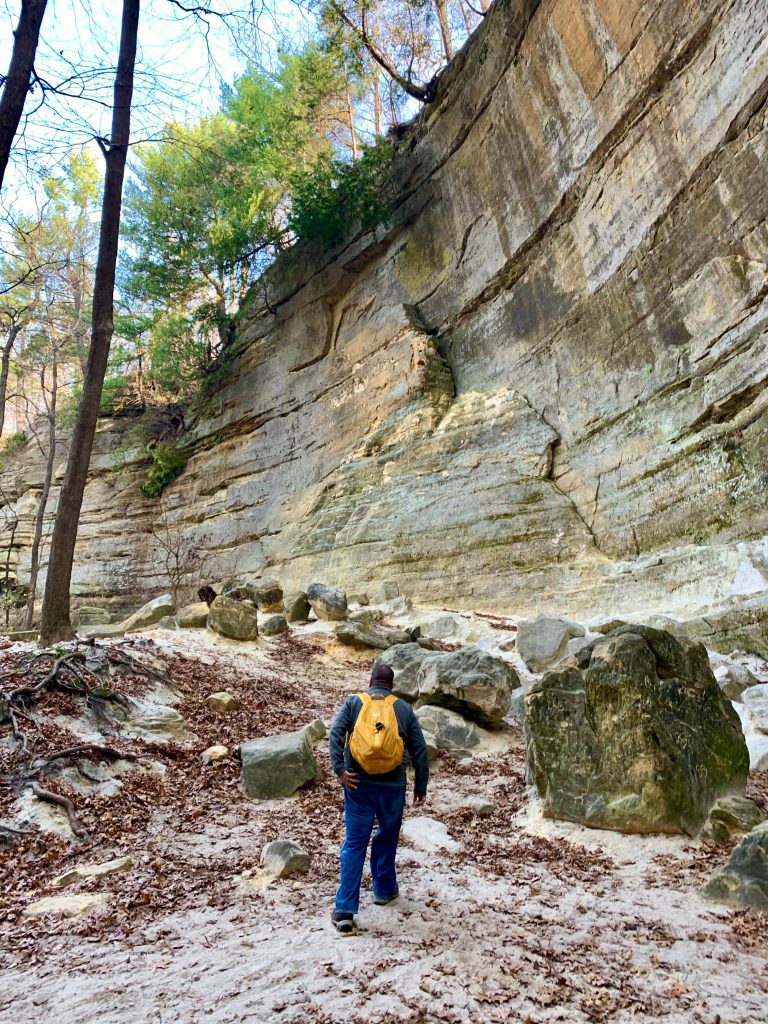 The waterfall is stunning, and it wasn't flowing at max capacity when we were there, yet it was still gorgeous. We went early, so the sun was rising over the canyon wall. It was so special to be there.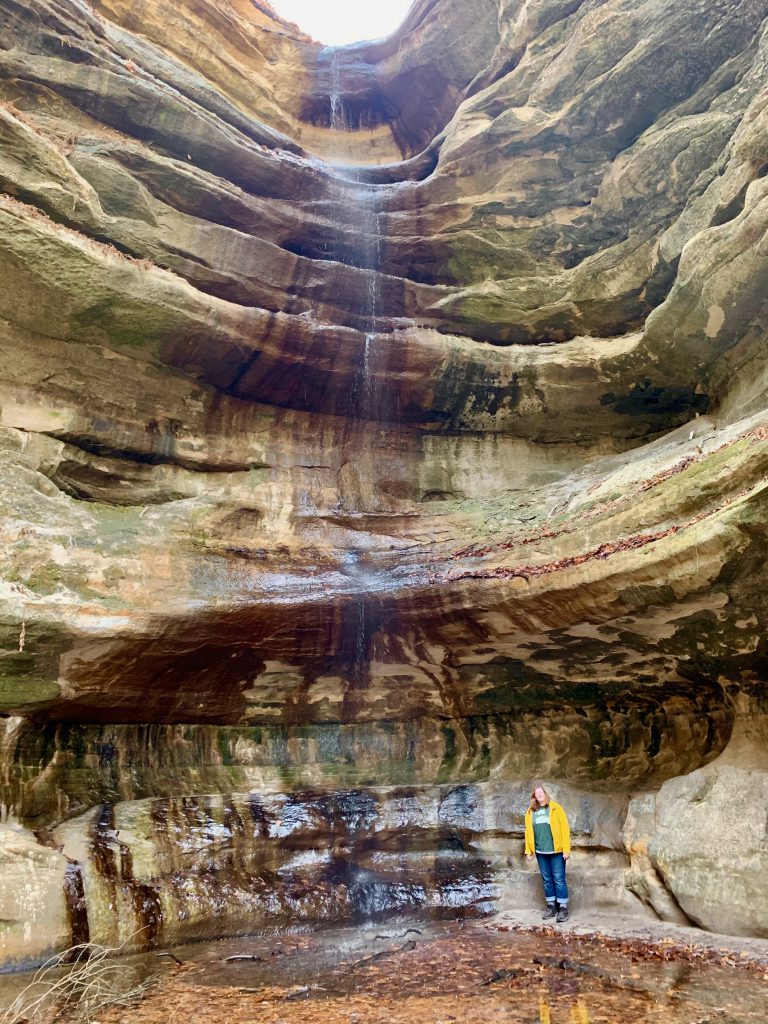 This is a very popular trail- not the most popular in the park, but very popular. As I mentioned, we only saw the grandma with little girl and the bow hunter on our way in. They were on their way out. We spent ample time getting down to the canyon and exploring in the canyon. By the time we headed back, we saw many families and people hiking in. I was super proud of myself for making it down and up. It had been kind of a battle of me against myself, because my fear of heights did kick in a bit. But I ultimately won!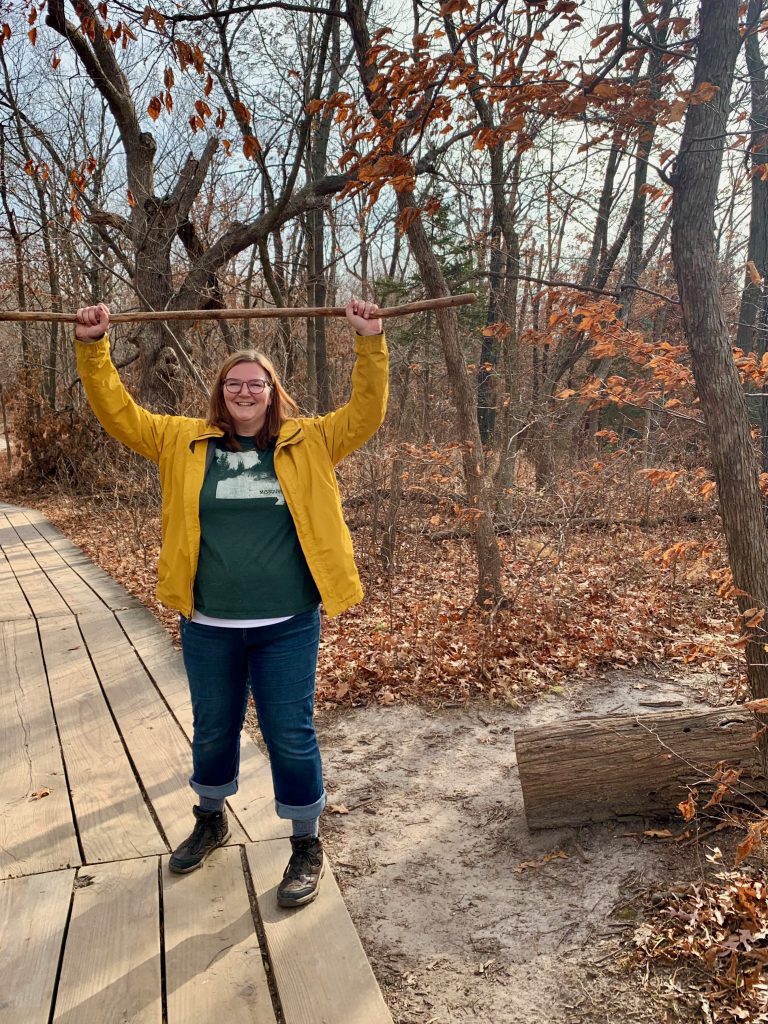 After this, I was super psyched to continue exploring. We stopped at the lodge to and grabbed a bite to eat outside on the bluff. (Indoor dining is closed at this time- FYI.). There is a small snack bar/cafe that offered some hearty choices like breakfast sandwiches and treats like fudge. There is a full-service restaurant inside also. The hotel portion of the lodge is open at this time, but we did not stay overnight.
After we enjoyed our bite on the bluff-top deck overlooking the Illinois River and Starved Rock itself, we descended to the visitor center. There is a trail from the lodge to the visitor center, but it was closed. The trail was closed, I mean, but also the visitor center was closed. There are public restrooms that you can access in the visitor center. There are also port-a-potties to use.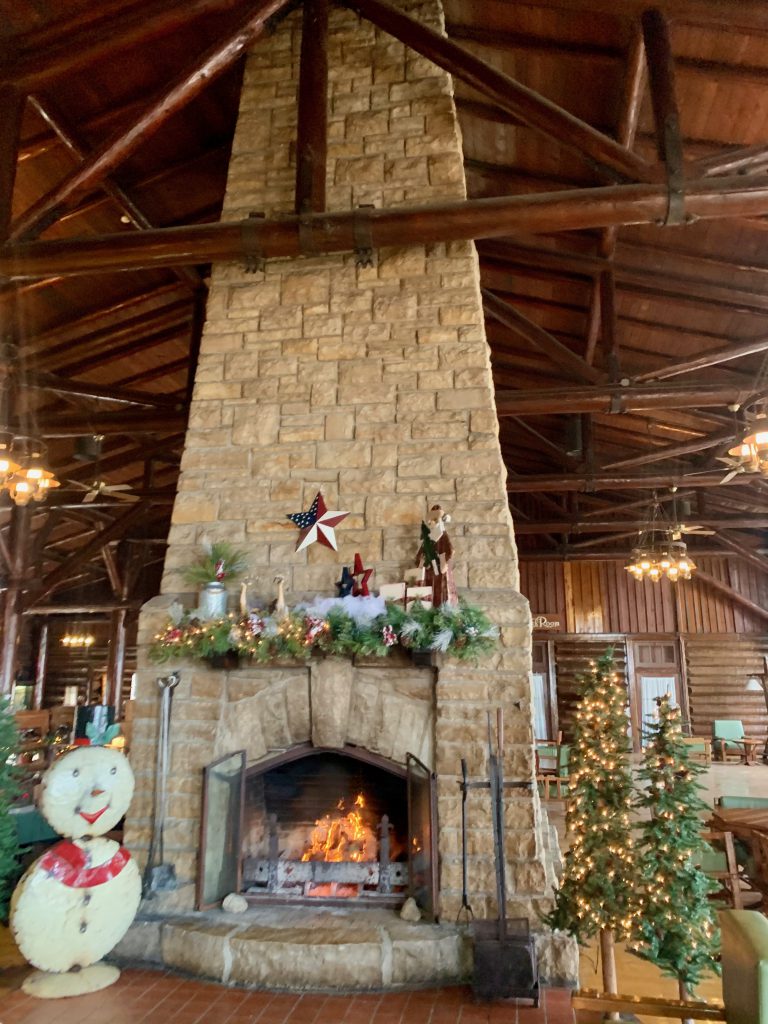 This is when things changed. The parking lot was very full. There were people everywhere. We weren't sure if we should proceed or not. We grabbed our masks and headed to the trails. We knew that the visitor center is the trailhead for most of the trails in the park, so we thought surely with so many trails, things would thin out on the trails. They did for the most part. There were a couple places where we had to step back or aside to maintain distance. We waited our turn to get up close a few times, etc. People were very mindful and respectful.
We climbed Starved Rock, of course, because what trip would be complete without doing so. This is not really a "trail." It is paved most of the way then you climb some stairs to get to the top where there is a boardwalk to explore the top. Really neat views of other bluffs in the park, the dam, and the river.
We then headed in to the other trails. A highlight for me was French Canyon. They say this is the most photographed canyon in the park, and I could see why. it is not as tall as St. Louis Canyon, but it is very gorgeous, serene, and peaceful. I was disappointed with the crowds at first, but I was actually able to really enjoy it. The sandstone has been worn down by the many many visitors this very popular park experiences. Once you're in the canyon, it is absolutely breathtaking. We had to wait our turn, but we got it all to ourselves in the end.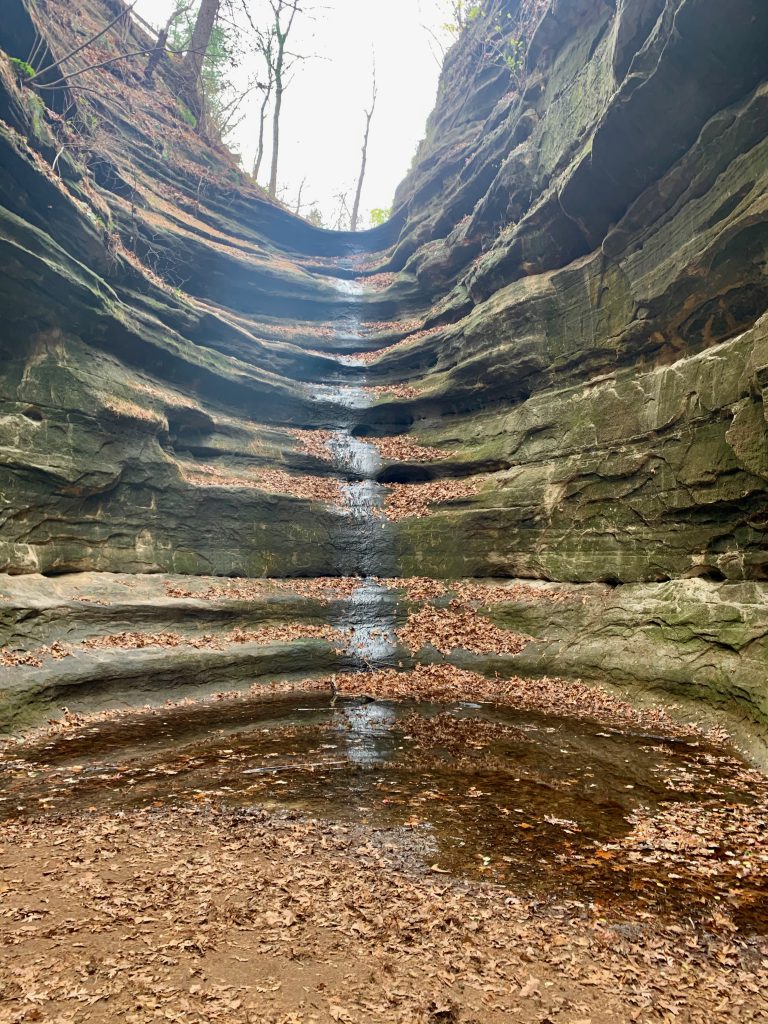 After hiking for a while, we felt like it was too crowded to really enjoy. We left and headed to a nearby park I was really excited to visit, but it was only open to hunters. So then we headed to another one- Buffalo Rock- and we had a delightful time. More about that later, though!
Starved Rock is 100% worth the trip. It was really, really cool. I imagine with it being that busy on a late November Saturday, it probably gets real crazy in the spring and fall. We plan to return, so we will definitely let you know!