Fall is in the air, my friends! While I am sad to say good bye to summer, I welcome fall and its crisp air, beautiful colors, and lovely lessons with open arms. I'll be doing a fall hiking series here on the blog of places I *love* hiking in fall. We begin with the crown jewel- Taum Sauk Mountain State Park.
Taum Sauk Quick Facts:
Park Hours: sunrise to sunset
offers basic, walk-in campsites and two special-use camping areas (tent only)
Amenities include picnic area and overlook (and bathrooms!)
Fun fact about Taum Sauk- this is the highest point in Missouri! At 1,772 feet above sea level, Taum Sauk Mountain is.. well… some people would say it's not really a mountain, comparing it to out West. But in my opinion, the St. Francois Mountains are really special. The oldest exposure of igneous rock in North America, these ancient hills are majestic in their own right.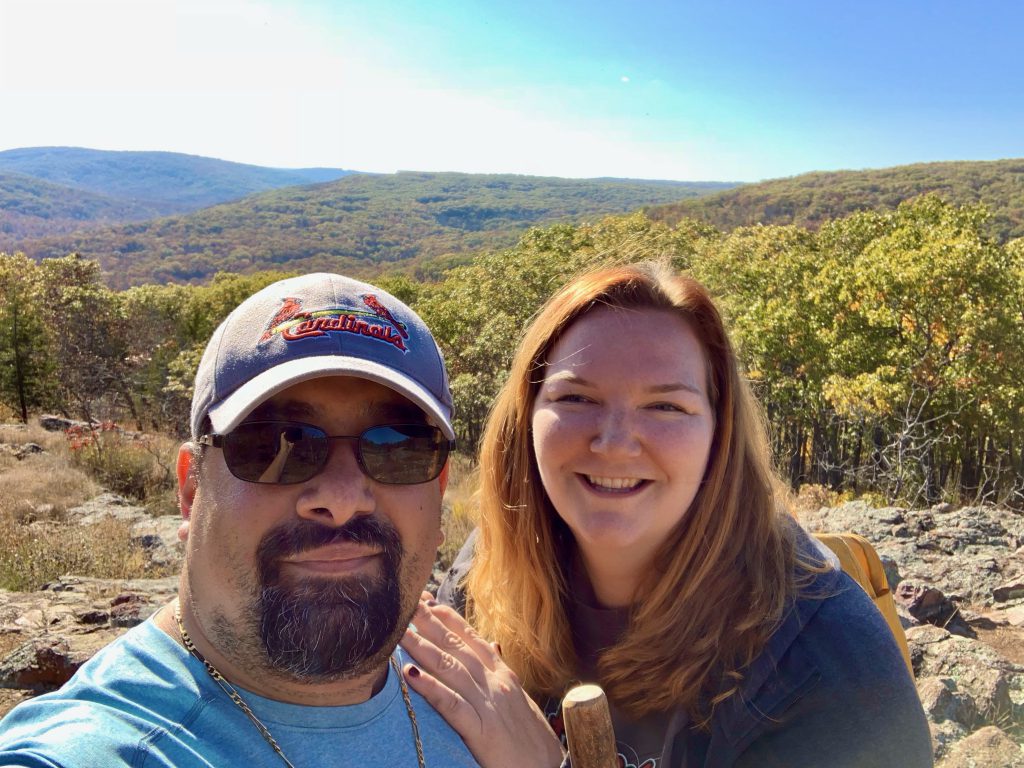 When you go to Taum Sauk Mountain State Park, there's not a whole lot to it. There's a parking lot and picnic area. There's an overlook that looks north at the mountains. There is a paved trail to a marker that officially marks the highest point in Missouri.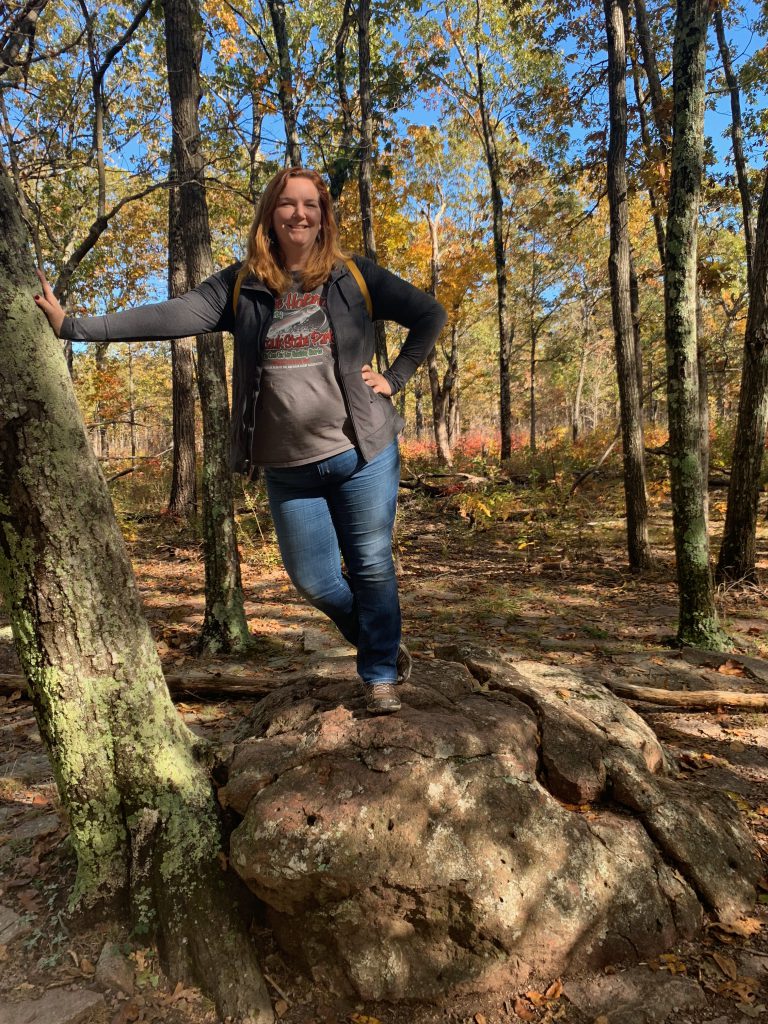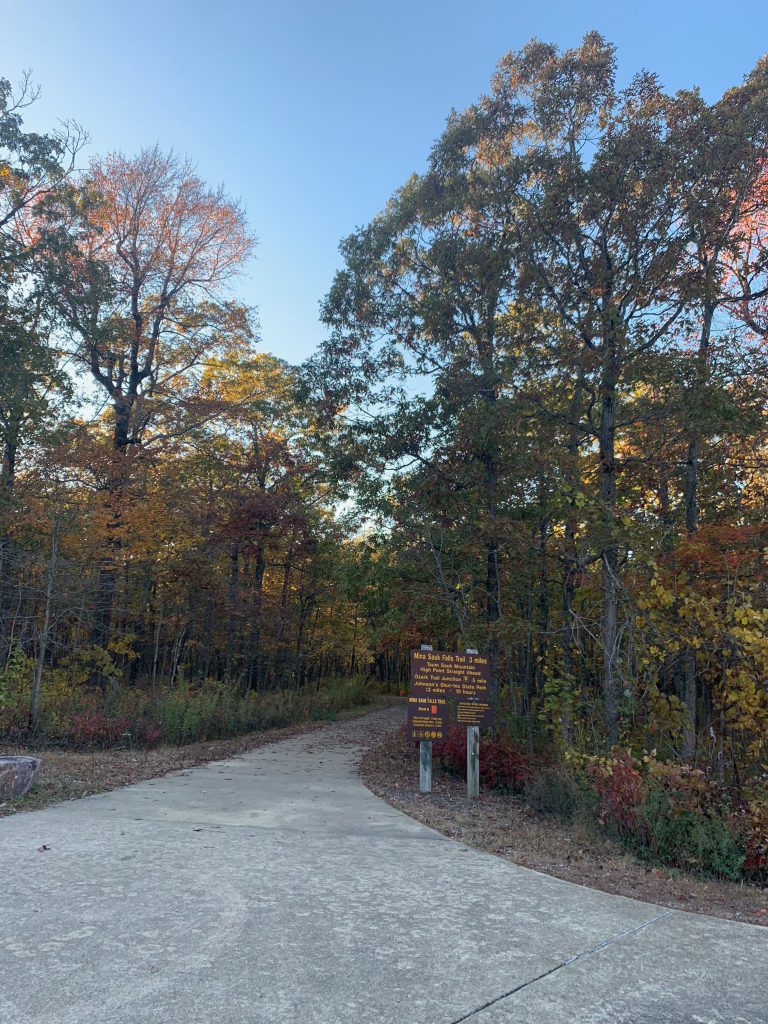 The Mina Sauk Falls Trail is about three miles and rated as "moderately rugged." See Kareem's Take for more details on that. 🙂 This trail is a loop, but it does connect to part of the OT. You can take this about eleven and a half rugged miles to Johnson's Shut Ins. Or you can just hike it about one mile to the Devil's Toll Gate and come back to the Mina Sauk Falls loop- a very popular choice. Devil's Toll Gate is an eight foot wide gap in between the black, volcanic rock and stands about 30 feet high. It's a really amazing sight and a beautiful place to take a moment to reflect on the ancient-ness of the rhyolite you're hiking on. This does take you into Missouri's deepest valley and up its highest point, so do keep in mind that it can be a challenging hike, depending on your level.
Kareem claims this is the hike I took him on to kill him! Haha. We did it counter-clockwise. The first mile and a half was lots of rocks and Kareem was very taken aback by this. I don't know what he expected, but… well, not that. We got to the falls, which was a great pay off. Then we had to hike back up. He's like, Susan this is more than three miles! It wasn't, but I think to him it felt like it! In the end, he left with a positive experience. For weeks, he talked about how proud he was of himself and he was so impressed that he pushed through. And I was really proud of him too!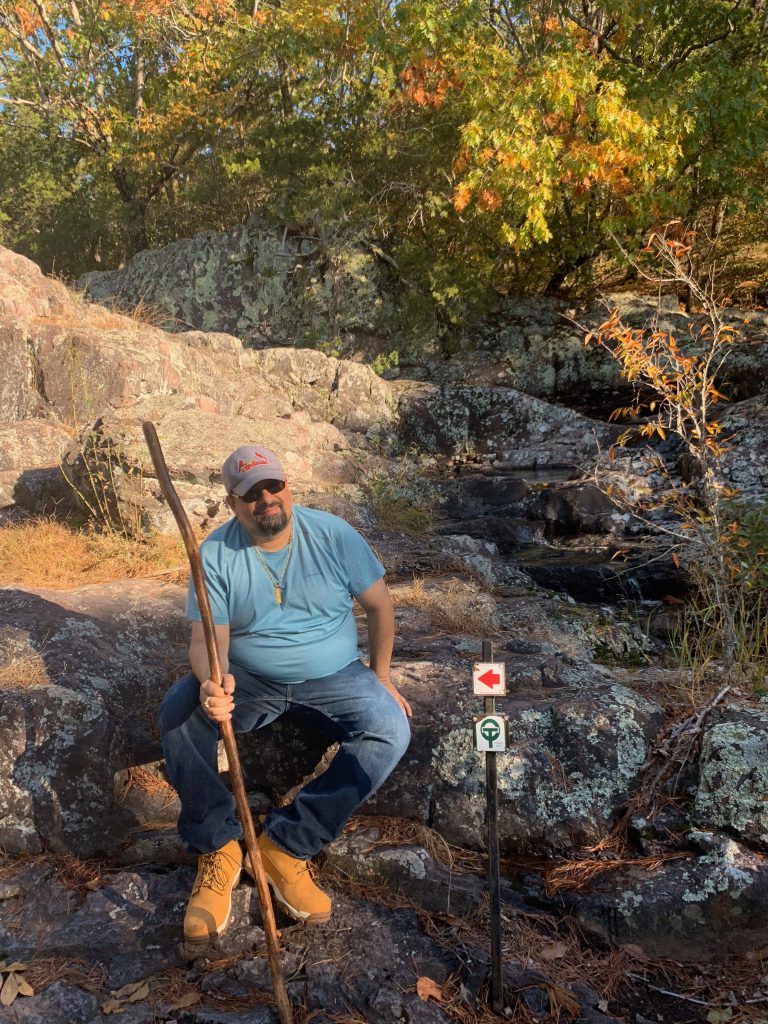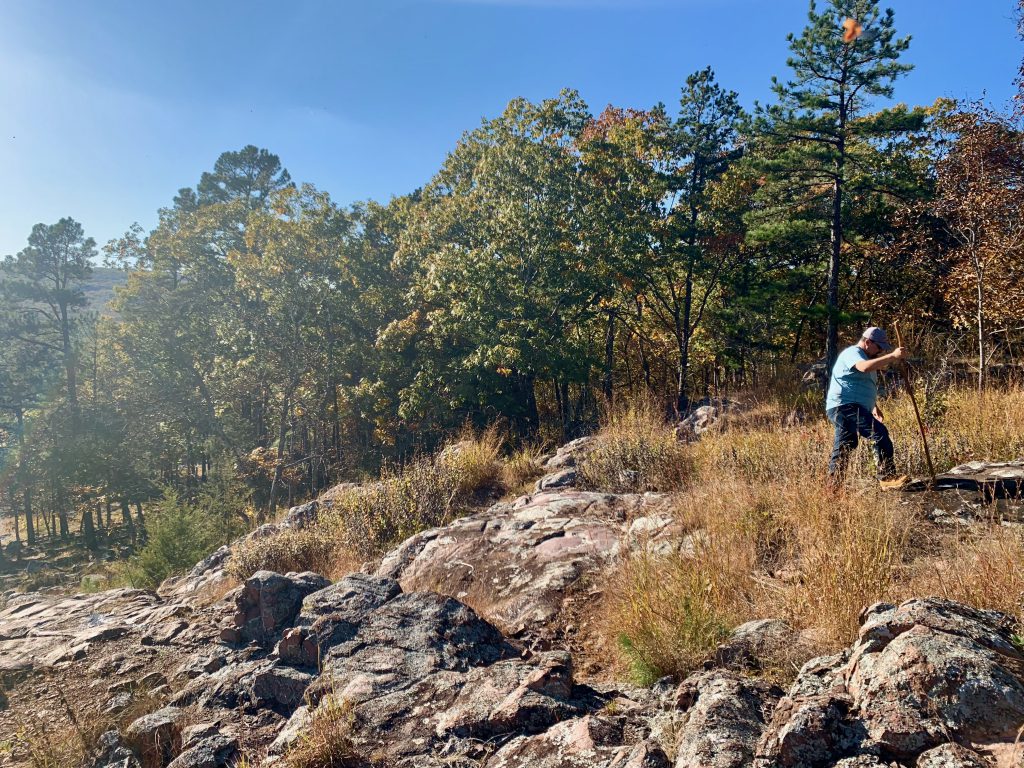 Mina Sauk Falls is about 1.6 miles into the hike. This is Missouri's tallest waterfall- it's about 132 feet tall! It is a wet-weather waterfall, so try to go during winter or spring or after a good rain to see it flowing nicely. This next photo is at the top of the falls, which is a beautiful series of pools to climb around and play. The falls flow over a series of ledges down below.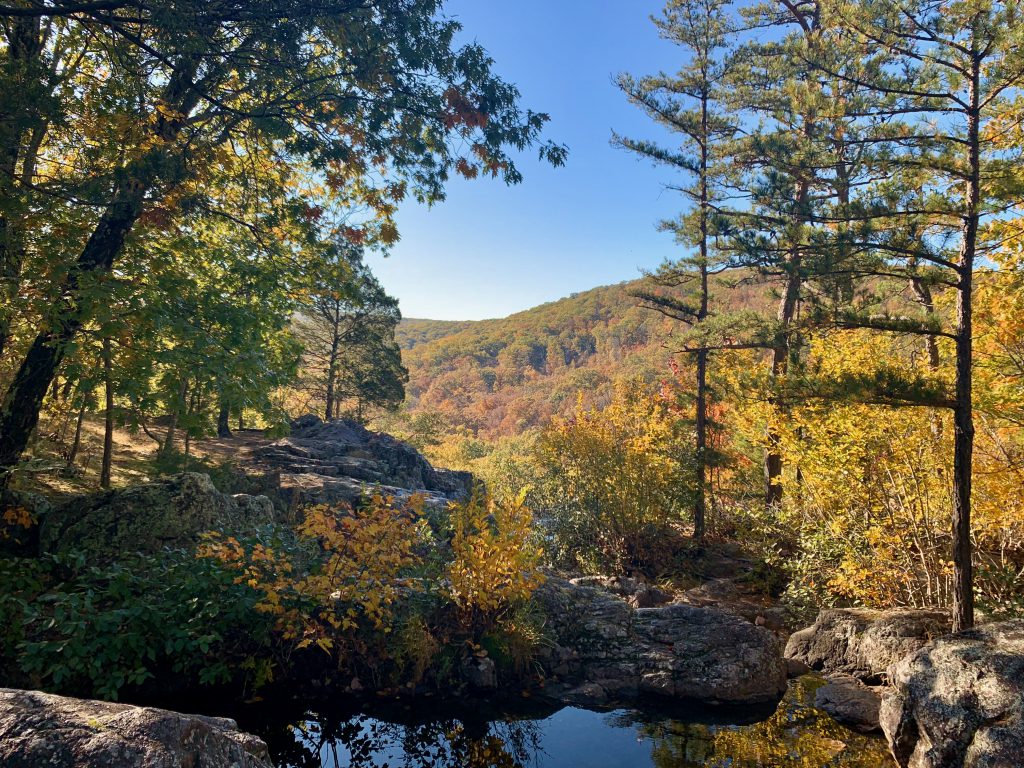 The views cannot be beat. There is not a lot of human interference- you don't really see any towns, wires, or roads from the trail. You do not hear road noise. It is a popular place, but I have never seen it super crowded. Because of these gorgeous uninterrupted views, this is a prime fall hiking destination. We went a bit ahead of peak in 2019, but it is gorgeous any time of year.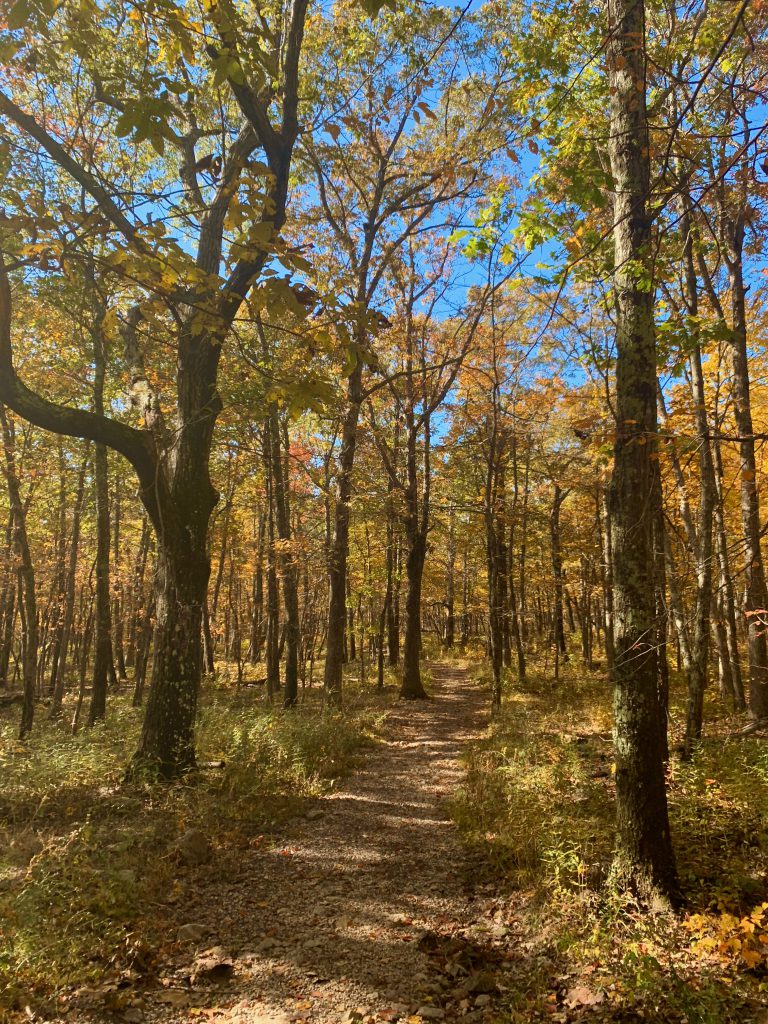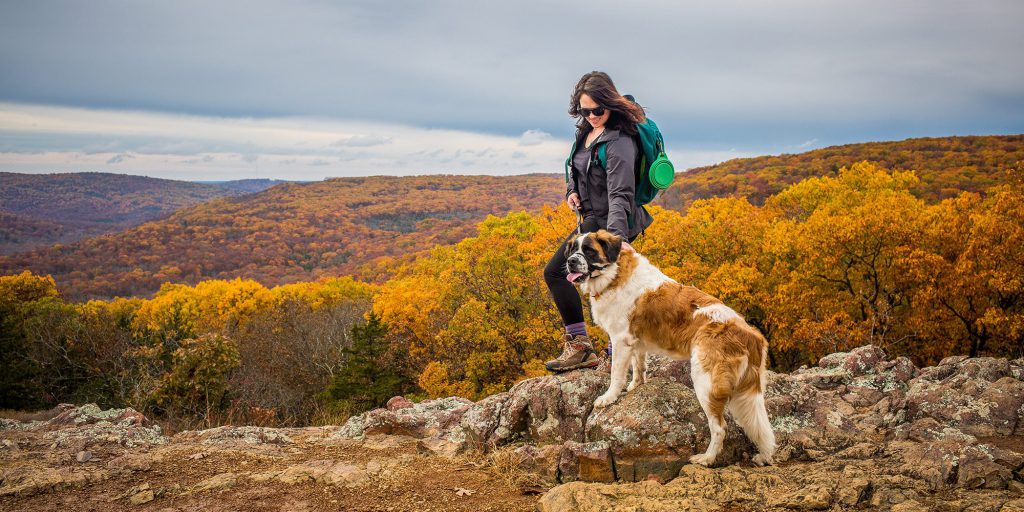 Kareem's Hot Take: One of the challenging hikes in Missouri, because it really is an actual mountain. It's beautiful. You have to be prepared though. It can be hard on your feet because a lot of it is rugged- so wear proper footwear. Definitely go down and see the waterfall, because it's awesome!