Charleston offers lots of historic points of interest- it was hard to narrow it down!  I was on the fence about visiting Fort Sumter and/or Patriot's Point.  I was not sure our kids would be interested.  But, as always, they surprised me and they LOVED these sites!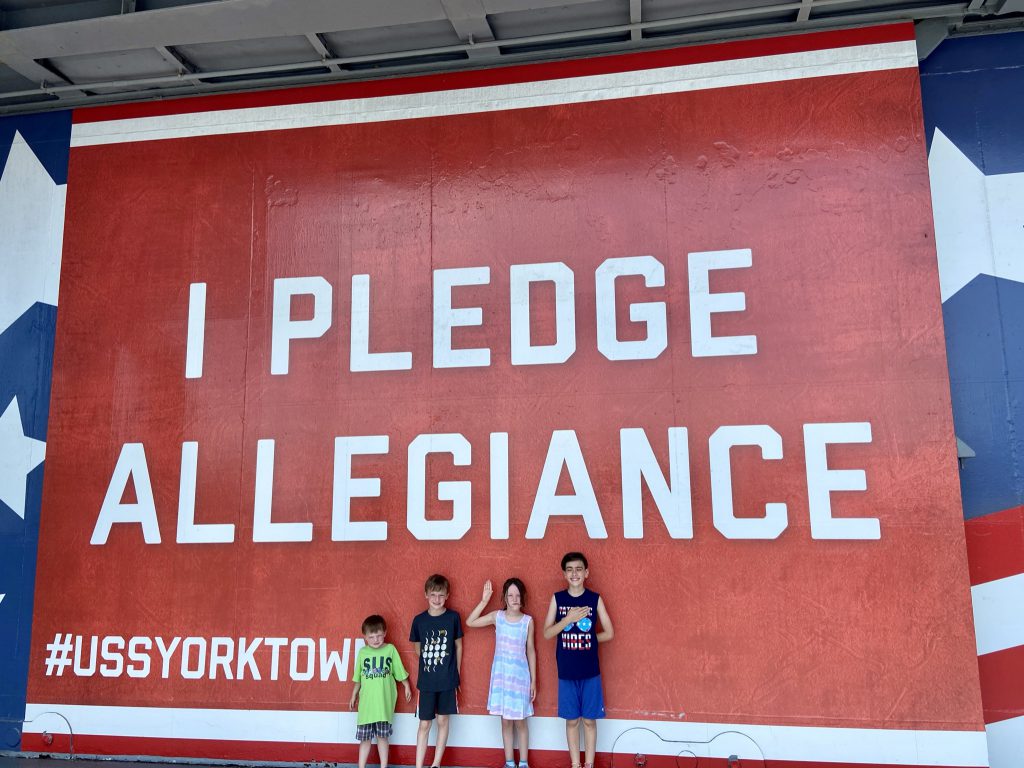 You can purchase a combo ticket for these points of interest to save a little money. FYI- you can scan your electronic ticket for Ft Sumter, but you have to go to the window and get a Patriot's Point voucher to get in there. AND you have to go to the Ft Sumter window, not the Patriot's Point window. They are side by side, but there could be a line, so know before you go. 🙂
You can only get to Fort Sumter by boat, and as it is a National Park Service site, the only boats allowed are the ferries they run.  They run from Patriot's Point and another site in Charleston as well.  We caught the ferry at Patriot's Point, though we did visit these sites on two separate days.  There are certain times of day you can take the ferry, and they are ticketed times.  You also will have to take the ferry back that you came on.  You have about an hour at the fort to check it out, which is plenty of time. 
Fort Sumter is a site of significant American history.  It is the site of the battle that began the American Civil War.  We had recently visited some historically significant sites of the Civil War, so the kids had some frame of reference for this, which made it better for them I think.  
The fort is not a super large site. There are lots of signs and information to take in, and there are some displays of Civil War-era weaponry and supplies. There are many cannons that have been restored there and it is neat to see the original brick. Just outside the fort, there is a (very) short trail where you can see the manmade island and how it was made. There is virtually no shade. Bring water and prepare for the weather.
The kids really enjoyed this each in their own right.  Rami liked reading about the history, Nick enjoyed the war strategy, Lucy liked the trail, and Jimmy enjoyed the cannons.  
Patriot's Point is a site with an aircraft carrier, a destroyer, a submarine, and several museums on site.  You could definitely spend a full day here.  We arrived early and spent about six hours.  Your entry ticket includes admission to the aircraft carrier, destroyer, and museums on site.  There are a couple of experiences that cost extra if you want to do them.  All our kids wanted to do the Navy flight simulator, so we purchased the tickets for that.  This visit overall was probably the most expensive experience of our trip, but it was definitely worth it. I think this was one of the kids' favorite things we did on our trip aside from the beaches.
You can explore the entire aircraft carrier that is anchored in the Charleston harbor.  There are many opportunities to see how the Navy lived and worked on this ship.  They have a self-guided tour available, and it is very good. It leads you through the ship on a very logical and well-thought out tour.  It is no joke navigating that aircraft carrier though.  You are using ladders and steep stairs just as the Navy did.  I did notice there were elevators available to make things wheelchair accessible, but the entire tour is not accessible. 
You can go up to the very top (flight deck?) and the tower up there as well.  They have many aircraft throughout the aircraft carrier to see as well.  It was really special and cool to go up to where the captain would sit and the navigator room and everything.  They also have a space craft on board as it was pulled from the ocean by the crew of this specific aircraft carrier!  
The kids loved learning about this so much, they were super psyched to also explore the destroyer!  It was much smaller, of course, but had a (very) small theater where you could really hear and see what the people on board would have experienced.  Very real, very cool.  
We visited the Medal of Honor museum.  The kids were very reverent and respectful.  Beautiful museum with incredible stories to experience.  We also visited the Vietnam Experience, which is outside back on land.  The kids learned a lot here, and we also got to see many veterans through our entire visit.  Rami and Nick thanked them for their service when they had the opportunity, and this opened several conversations.  It was touching to speak with these people.  
All in all, Fort Sumter and Patriot's Point were both very educational and unique experiences that I would recommend.  I would not try to do both in one day with small children, but I think an ambitious adult or older kids could probably handle it.  🙂