I'm sorry I didn't come up with a more creative title. It had so much potential and I just…..
Anyway.
So I had a four day weekend at the end of July/beginning of August. Perfect for an adventure!
Except.
I was looking into several destinations…. I was looking at my monthly budget… I was looking at the weather forecast for pretty much everywhere in a twelve hour radius…
No money? We'll camp! One hundred degrees literally everywhere in the nation??
Okay, so we'll adventure right around here then. We started talking options- Shawnee National Forest is one of my FAVORITE destinations, so we were looking at that. But ultimately, we decided to do something that Kareem had never done before- see all the covered bridges in Missouri!
Is that not that exciting to you? Well, we combined it with lots of side adventures and seeing people we hadn't seen in a long time. It was delightful.
More about that part later. Right now- B R I D G E S.
The first day, we headed north. This is not a direction we head very often. In fact, Kareem has questioned me as to why we do not. Well, he found out that day. While northern Missouri may have some charm, it is mostly flat and everything is really far apart and far away. This particular Friday, however, it was within reach! And we really saw a lot of it.
The first bridge we visited was Union Covered Bridge State Historic Site. This bridge is near Mark Twain Lake in northeastern Missouri. There are no amenities at the site. This bridge is particularly pretty, all white and lovely. There is a low water bridge next to it that is in use today. It makes for a lovely background noise of water rushing over the bridge and rocks.
This bridge is very heavily surveilled with cameras everywhere. It also is the scariest bridge in my opinion to walk over. The slats are loose and you can see between them. I was a little nervous, but I did it both ways.
Unfortunately, I was checking out the low water bridge, and poor Kareem slipped and fell down a mud ledge making his way down there. His poor phone totally ate it in the mud, as well as his pants. Sad face!
The next bridge is the only one I had never been to. Locust Creek Covered Bridge State Historic site is located… well, I'm not really sure. It's in the middle of nowhere. It's between Macon and Chillicothe off Highway 36. Not far from Marceline.
Anyway, you will pull off onto a gravel road and go for a while. It will be the only thing off the gravel road. You will not be able to see the bridge. There is a small parking area, if you could call it that. There are no amenities here. From there, you cross a pretty wooden bridge (not the covered bridge!) to a trail that is a little over a quarter mile that leads to the bridge. It made for a very lovely walk.
Once we arrived, the bridge is stunning. It no longer traverses the creek, as the creek was rerouted at some point in the twentieth century. This really adds to the beauty and serenity. The creek is nearby, and you can explore this whole area.
There was a man on the bridge when we arrived which surprised me. He was a conservation agent (actually, an intern) studying bats. There were TONS of gray bats living in the bridge. The man said not many people visit the bridge, which did not surprise me. He said that in the evening, the bats all fly out of the bridge around sunset. I really wanted to watch, but unfortunately, we were there early and had to be moving on.
The next day, we headed to southeast Missouri, also known as God's country around here. 🙂 We stopped at the popular and frequently visited Sandy Creek Covered Bridge State Historic Site. This is a gorgeous red bridge that crosses a creek. There are restrooms and picnic areas at this site.
We spent most of our time here in the creek. We only saw one other family here. This is a popular spot with my kids, and we have visited several times, often on the way to other places. It's along highway 21 in the gateway to the St. Francois Mountains.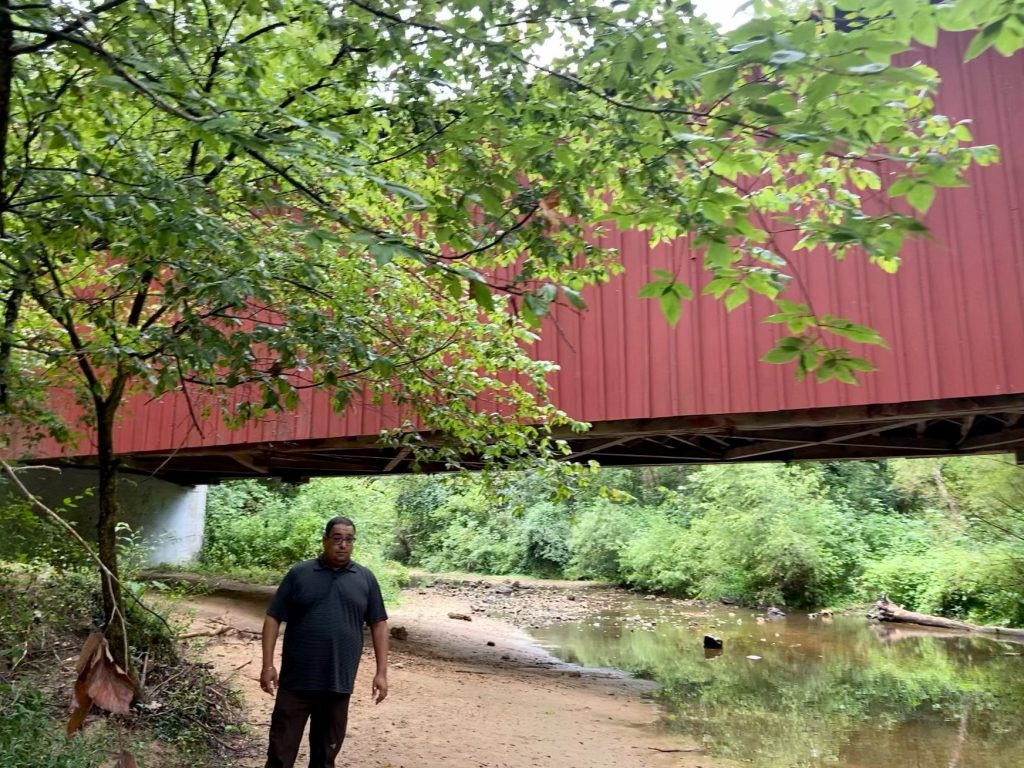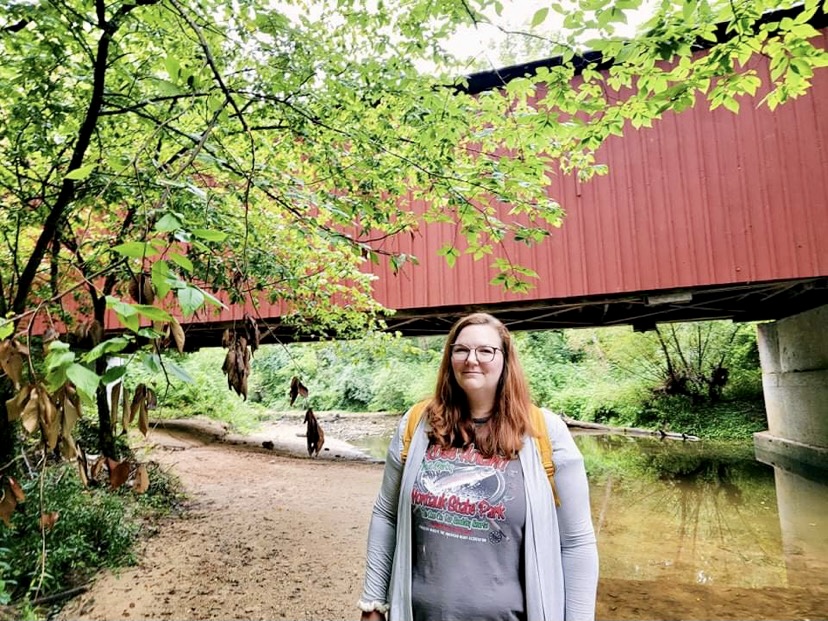 Next, we continued south and we visited Bufordville Covered Bridge. This bridge is part of Bollinger Mill State Historic Site and is the oldest of the covered bridges remaining in Missouri. This site has restrooms and picnic areas, as well as a historic mill which you can tour. There are also some shops right across the street. It is about a half hour west of Cape Girardeau.
We toured the mill and enjoyed the river and the tall pines at this site. The bridge was very dark and very gorgeous. This one was the oldest and the coolest in my opinion. I remember visiting here as a kid and thinking it was amazing, and it definitely aged just fine for me because I still think it is amazing. We toured the mill while we were there as well. There was some construction around the site, so some of it was not accessible. I remember seeing the builder's initials carved into stone, but we couldn't get up to that. Maybe next time!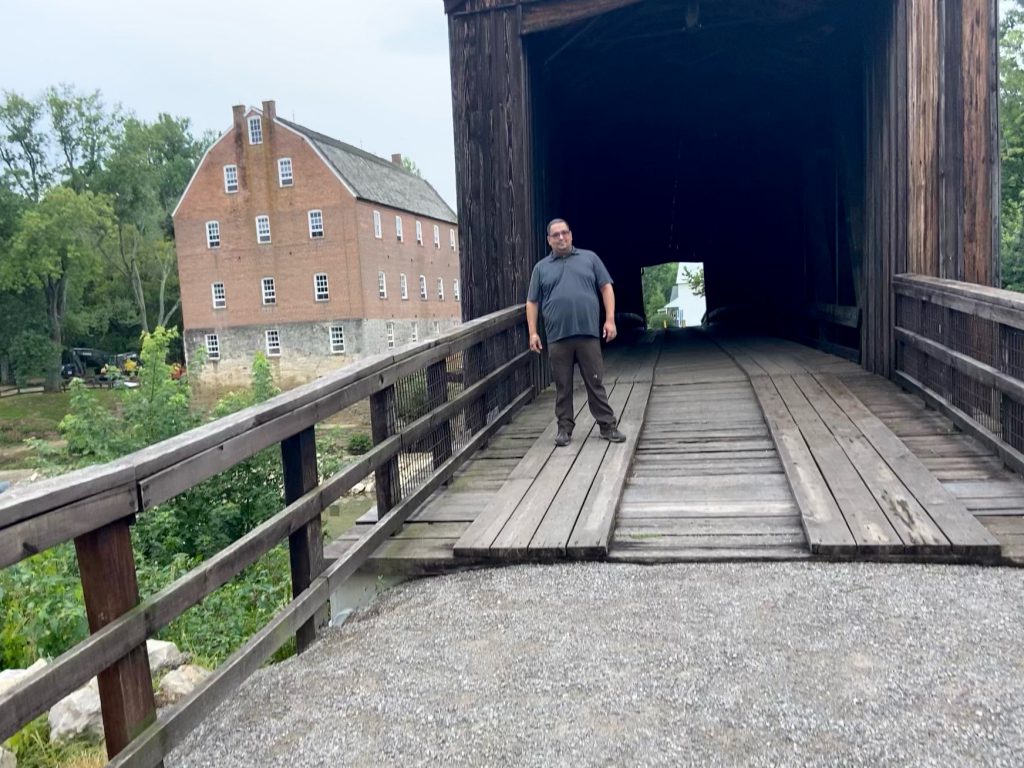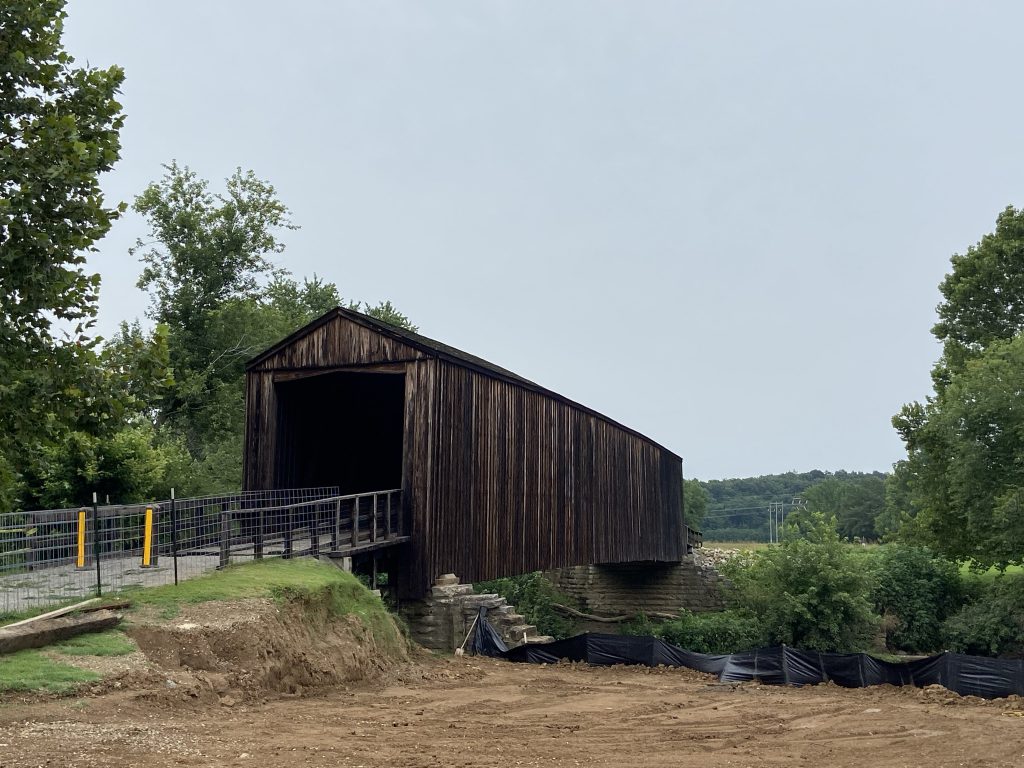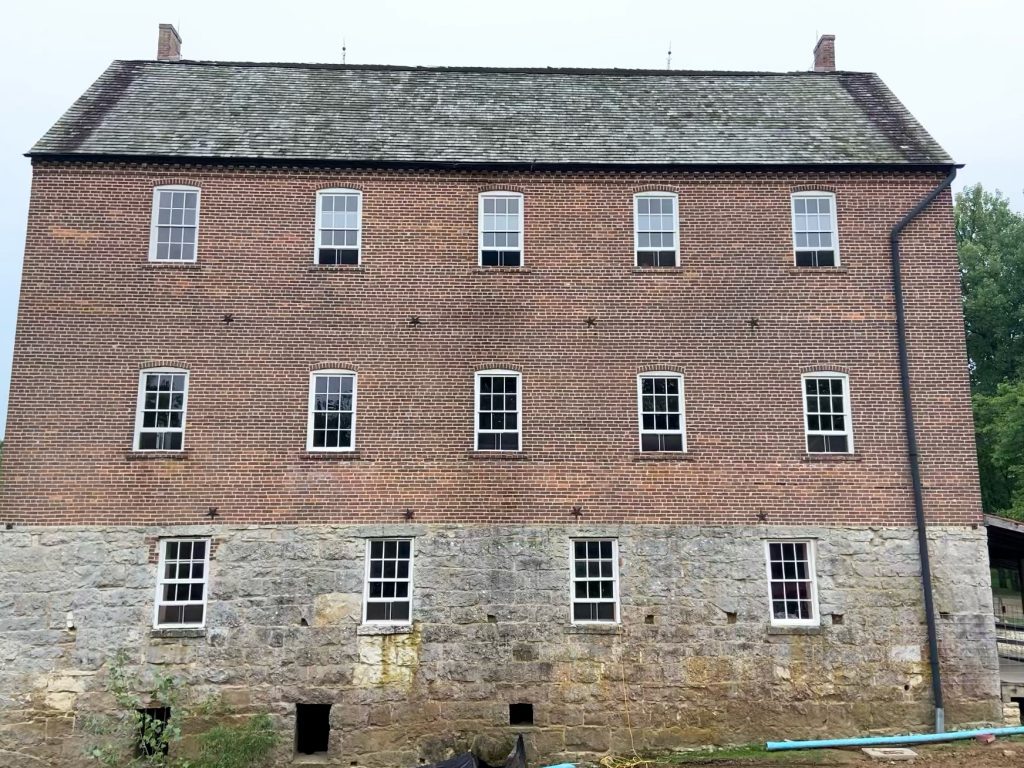 It was fun experiencing these with Kareem. I had seen all but one of them before. It was a cool Missouri tourism item to check off our list as well! And we got to visit Hamilton (info about that here) and a bunch of places and pals along our way as well!
These covered bridges are true treasures. I'm so grateful that somebody in Missouri in the 1970's had the passion to protect them. Beautiful pieces of history and pride for us to glimpse ways of life in the past.