A couple weeks ago, we visited the delightful Washington State Park. We have visited there to hike before, but I haven't camped there maybe ever or at least since I was like ten.
We went with my parents, which means we bring our tent and they bring their camper. Which means my oldest son and my girl child sleep in the AC while my youngest and my stepson sleep in the tent with us- by choice!
Washington State Park is not in Washington state and it's not in Washington, MO. It's in Washington COUNTY, Missouri between De Soto and Potosi off 21. It's a very easy and close drive to St. Louis, but you feel like you're a world away. Typically we go much further away to camp, so this was kind of nice.
The big draw to Washington State Park was the pool. Well guess what. They closed the pool the week before. Okay, but there are lots of other cool things to do here! There are some really cool hiking trails such as the 1000 Steps Trail, there are swimming and fishing and floating opportunities on the Big River, there are petroglyphs to view, and beautiful stone structures built by the African American Civil Conservation Corps nearly a hundred years ago.
Despite all that Washington State Park has to offer, Nick was disappointed to find out on the way there that we were not visiting his beloved Current River. He ended up having a good time, but not before some initial heartache.
The campground was very nice, but was not near anything cool. There was a playground there for the kids, and we did a lot of scootering around at the campground.
I was really excited to get my dad out to do the short walk to the petroglyphs with all of us. It was very HOT, but my kids enjoyed seeing the petroglyphs. I swear, I have taken them here about twenty times, and every time they forget we were ever there and it's like a whole new experience. They enjoyed the petroglyphs and exploring the rocky glade. These rocky glades are very typical in the Ozark landscape, especially in the St. Francois mountains. I love them. They are dramatic and beautiful.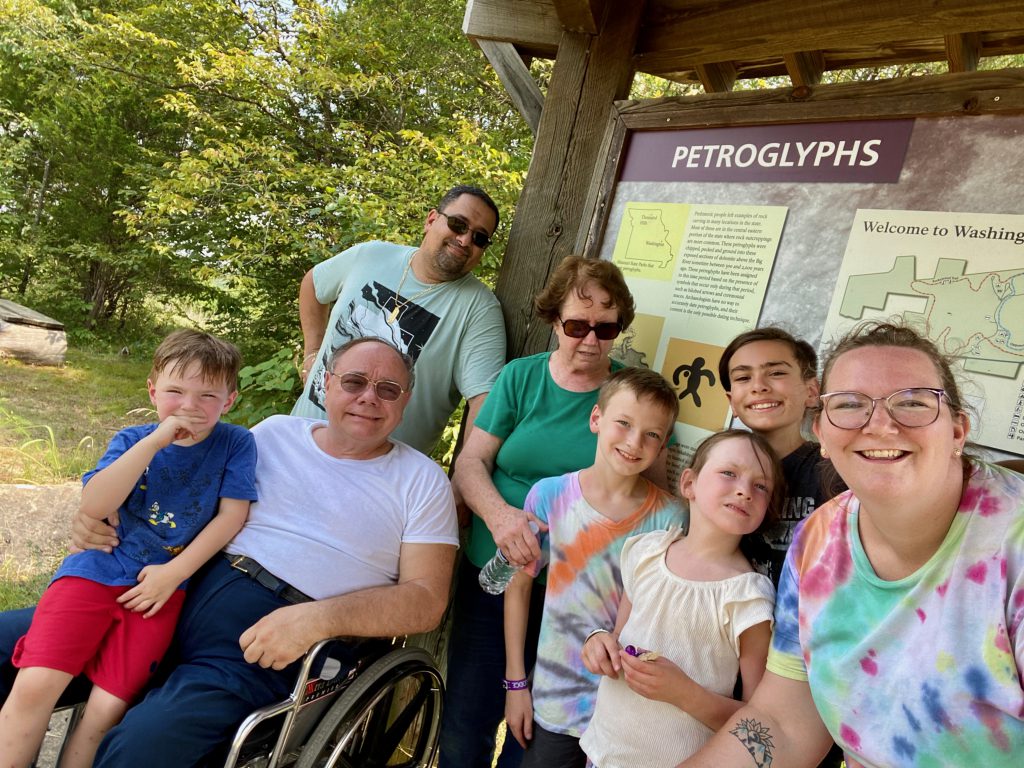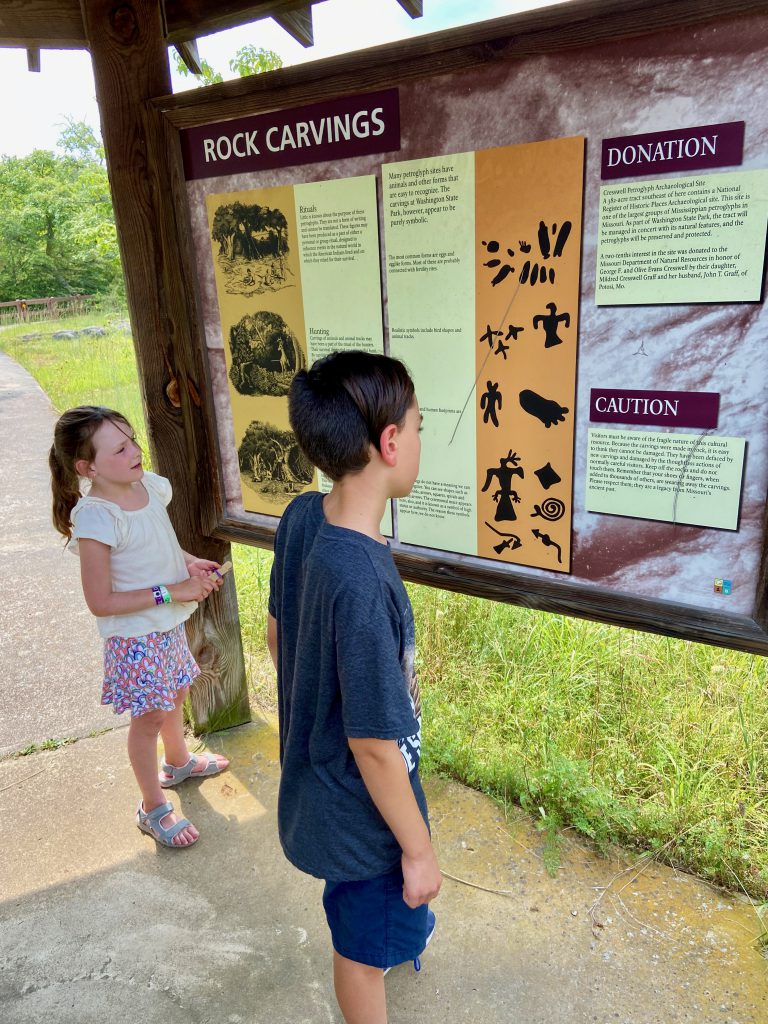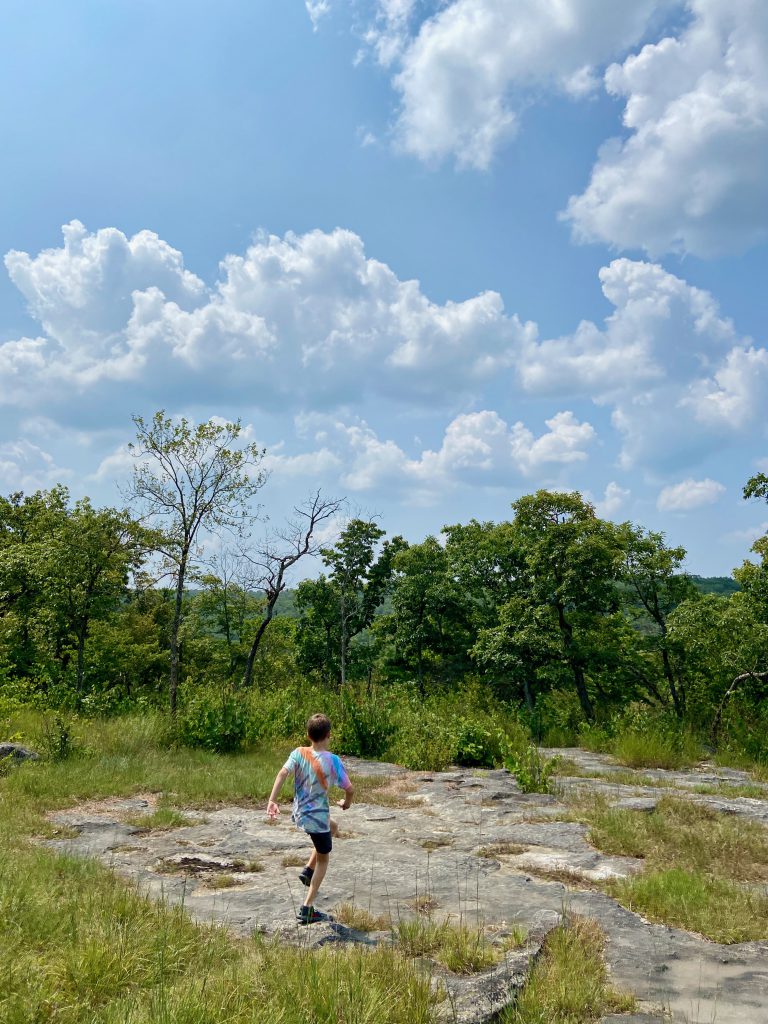 Speaking of dramatic and beautiful, the hiking in Washington State Park offers amazing views of the surrounding hills and the Big River below. We also got to explore and see those stone structures.
The 1000 Steps Trail is a trail that was built by that same African American CCC Company. They built the trail and its many stone steps up the ridge, as well as stone shelters only accessible via the trail.
The trail is pretty rugged. It is about a mile and a half long, but it shares a trailhead and part of its trail with the Rockywood Trail, so you can easily spur off, which we did.
If you are going to bring small children- our smallest on this hike was four years old- I would recommend keeping a close eye on them. It is very uneven and steep both up and down, and you are going down alongside of a steep ridge.
We began at the trailhead by Thunderbird Lodge. We went along and then straight up the hill via some of those stone steps. We went early in the morning, but it was going to be a hot August day, so lots of water breaks. The stone shelter along the way was perfect for a magical little break. The kids loved the idea that these steps and shelter were built so long ago.
Now when I say steps, it's not like stairs. It's large flat stones that were laid in the 1930s. So many of them are broken, and much of the trail is not steps at all. So don't expect a staircase, because it is not.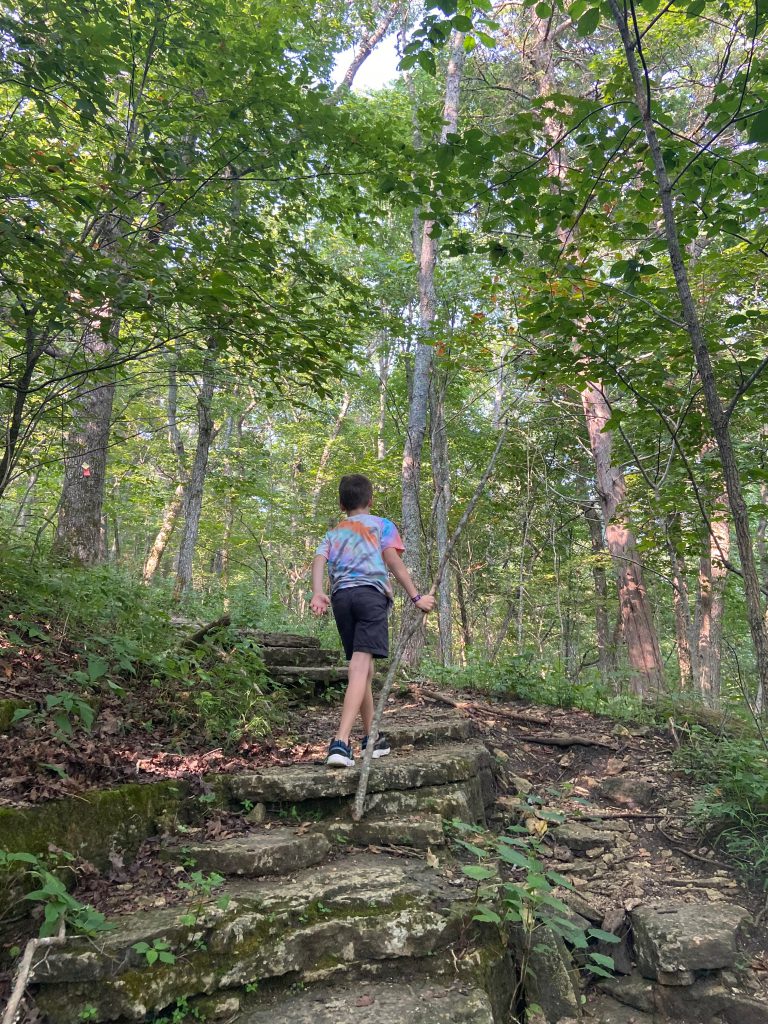 The stone shelter is not the top, but it's close. We continued to the very top where we hung out at a very pretty shelter with a fireplace that looks great for a family gathering. Then we continued on along the top of the ridge. Then it was time to descend.
Going down is always harder than going up. It takes more concentration and can be more physically demanding, even though going up might feel more difficult. This is the part I supervised Jimmy on the most.
We made it! The older three kept talking about how much they LOVED this trail, especially Lucy. I think they enjoyed the challenge of it and the beauty. It does feel like a magical forest.
We then walked all the way along the bottom of the ridge not far from the river back to our car. I was proud of these buddies!
If you follow me on Facebook, you saw the terrible faces of Jimmy throughout the hike. I take pictures pretty quickly on these hikes and don't necessarily pay attention- I just kind of hope for the best. Anyway, hilariously, I got about eight pictures of Jimmy looking decidedly unhappy this particular day. He had moments of joy as well, but it was funny looking back at those pics.
Later that afternoon, we took them swimming in the river. There were plenty of people there, but it wasn't crowded. We had lots of space. Closer to dinnertime, several groups were taking out a bit upstream from their floats.
This beach area is mostly rocks and sand. The river is very shallow here- the kids could walk across easily and not even be waist deep. There is rock and then the other side is a tall bank of dirt, which Nick enjoyed making into mud and getting exceptionally dirty. You can count on him for that! 🙂
The kids really enjoyed the beach time. And so did we! I love sitting my camp chair in the water and hanging out- don't you??
We then returned to camp for dinner, fire, and s'mores. Early bedtime because everyone was beat!
We had a great weekend at Washington State Park and will definitely visit again.