Hiking during the quarantine can be a challenge because nobody has anything else to do, so everybody is out. If we see a full lot, we usually move on because we want to social distance responsibly while hiking. We were dropping off things at Kareem's mom's house and picking things up at my parents' house, so we were looking for something in the area. And so was everyone else! Sunday was a super nice day, so parking lots everywhere were full. My first two ideas for a place to go not far from my parents' were both a bust. So we went to Myron and Sonya Glassberg Family Conservation Area, not far from my first two ideas.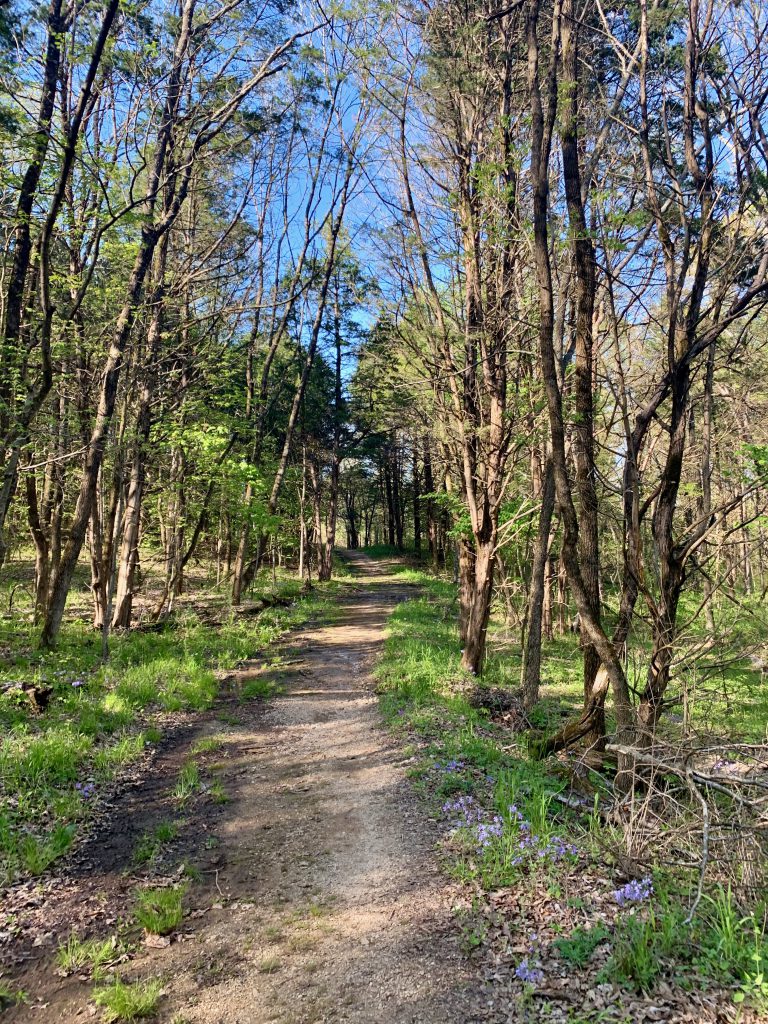 This has been on my list for a while, but never really topped it because there wasn't anything too compelling for me about it. But boy was I wrong! It was absolutely gorgeous.
Glassberg Family CA Quick Facts:
located in very northern Jefferson County, about four miles from the 109/FF junction
open from 4 am- 10 pm
LaBarque creek runs through it and offers overlooks of the Meramec
No bathrooms, picnic tables, or other amenities- hunting is allowed
Hiking opportunities: 3 mile loop trail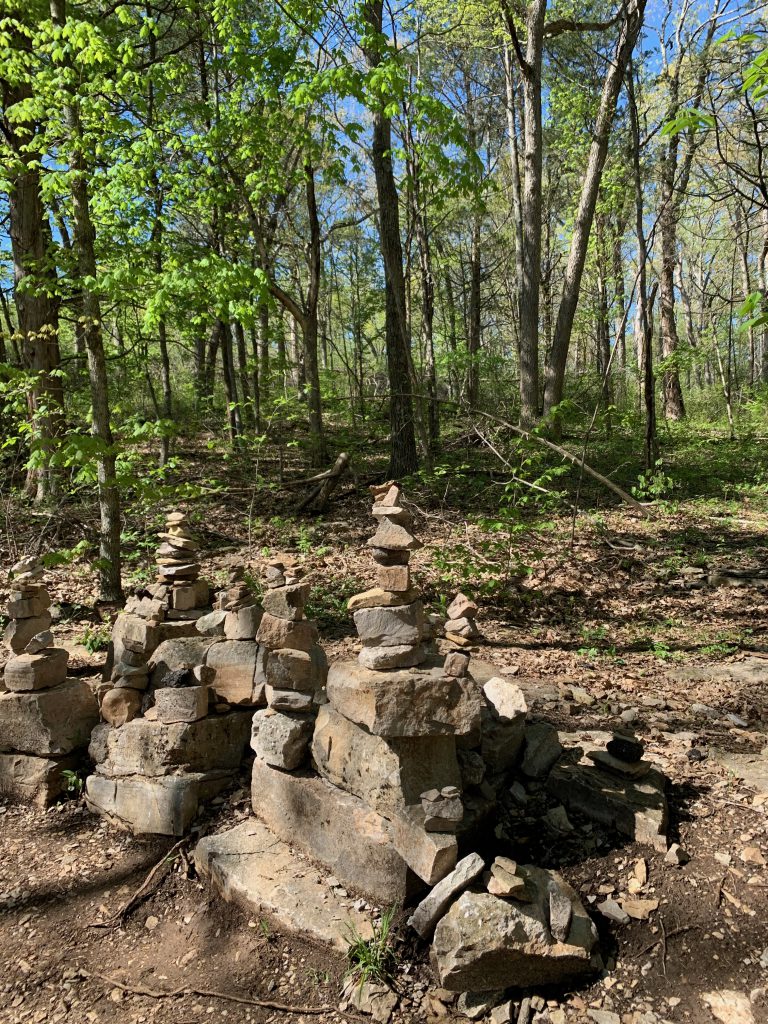 There is just one hiking trail in the area. It is a 3 mile loop. We got about 3.5 miles in total on our visit, with the spurs and exploring the creek and service road. The trail is a mix of surfaces- gravel road, old blacktop, dirt, and grass. The elevation gain is about 350 ft. It is pretty much all uphill for like the first mile. There is some up and down for the rest of the hike though as well. It goes through woods for most of it, but includes the three acre lake, overlook on the bluffs, and there is a manmade glade for the power lines to go through the hills- you go through this area a couple of times.
I should never have written this conservation area off for later or maybe next time- it was worth it! My word for this hike was "pretty." The woods were very pretty. The beginning of the trail has a lovely memorial to the Glassberg family, and it starts as a gravel road. You'll come to a small waterfall (if it has recently rained, it will be making more noise) on the right very shortly into the trail.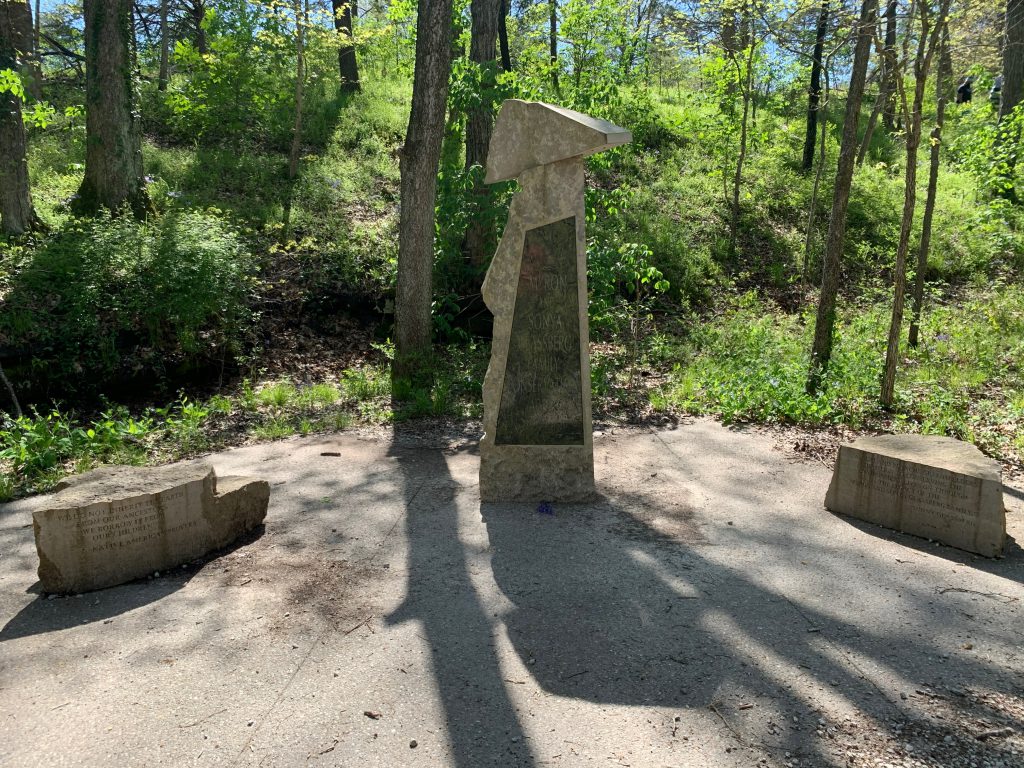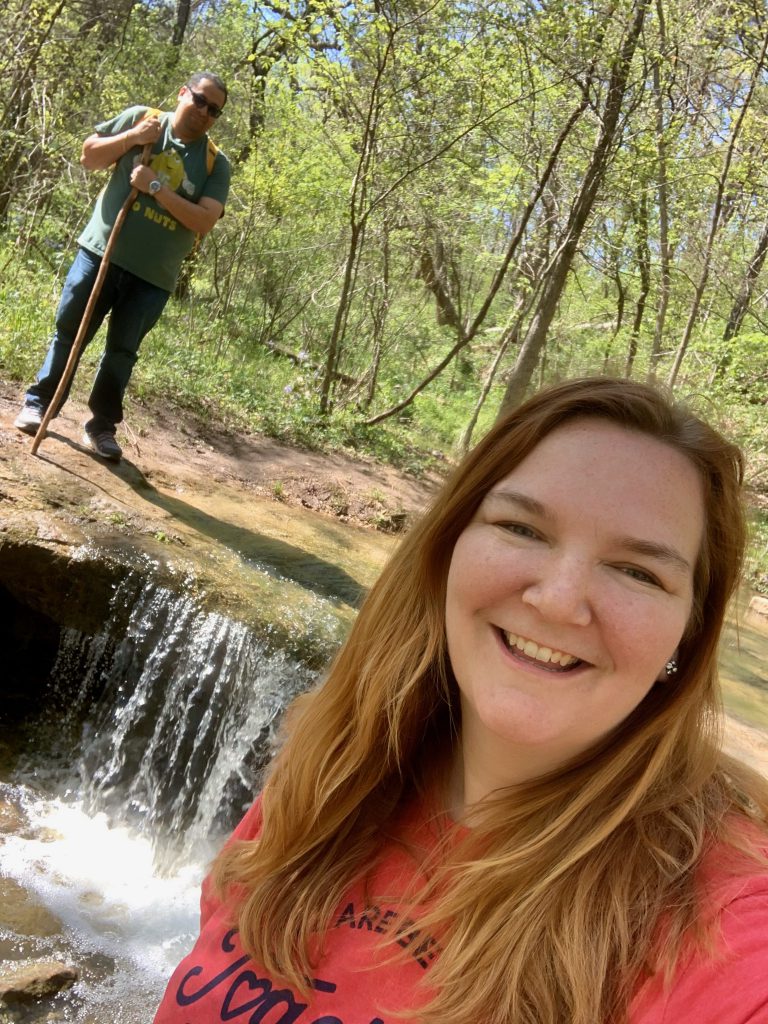 It continues uphill forever according to Kareem, although it's actually about a mile. The gravel gives way to broken old blacktop and it varies from gravel to old blacktop for a while. On your journey uphill, there's a spur off to the left to access the three acre lake. At the top of the hill, there's a spur off to the right that is marked to get to the scenic overlook with a viewing platform for a lovely look at the Meramec from the top of the bluffs.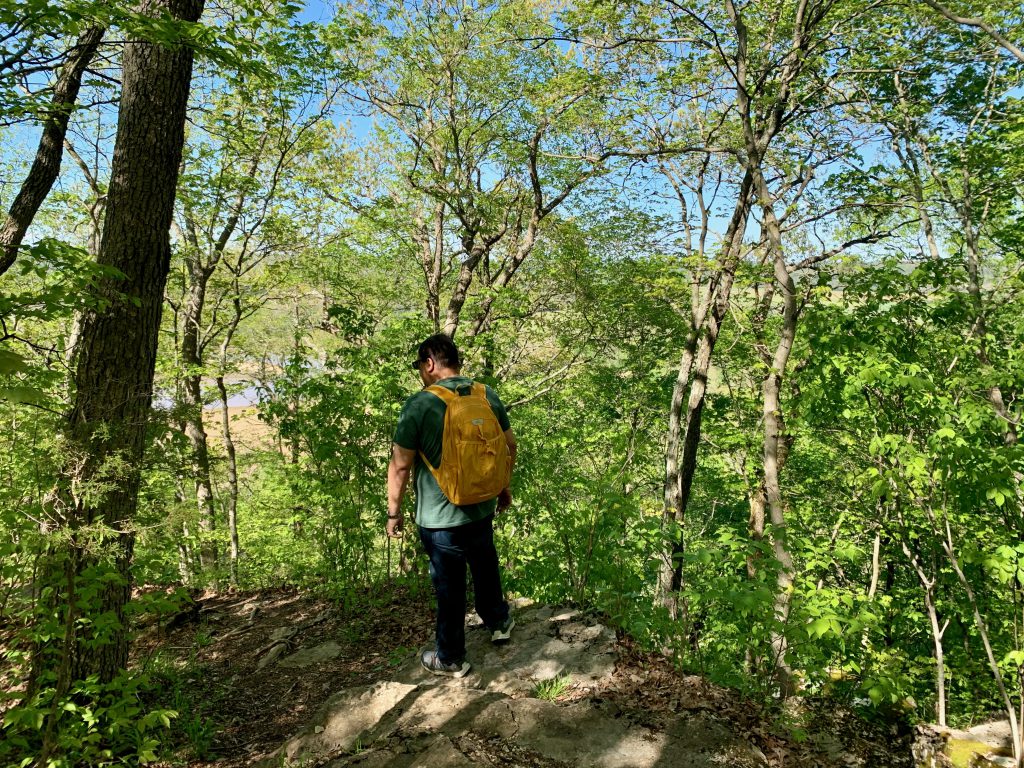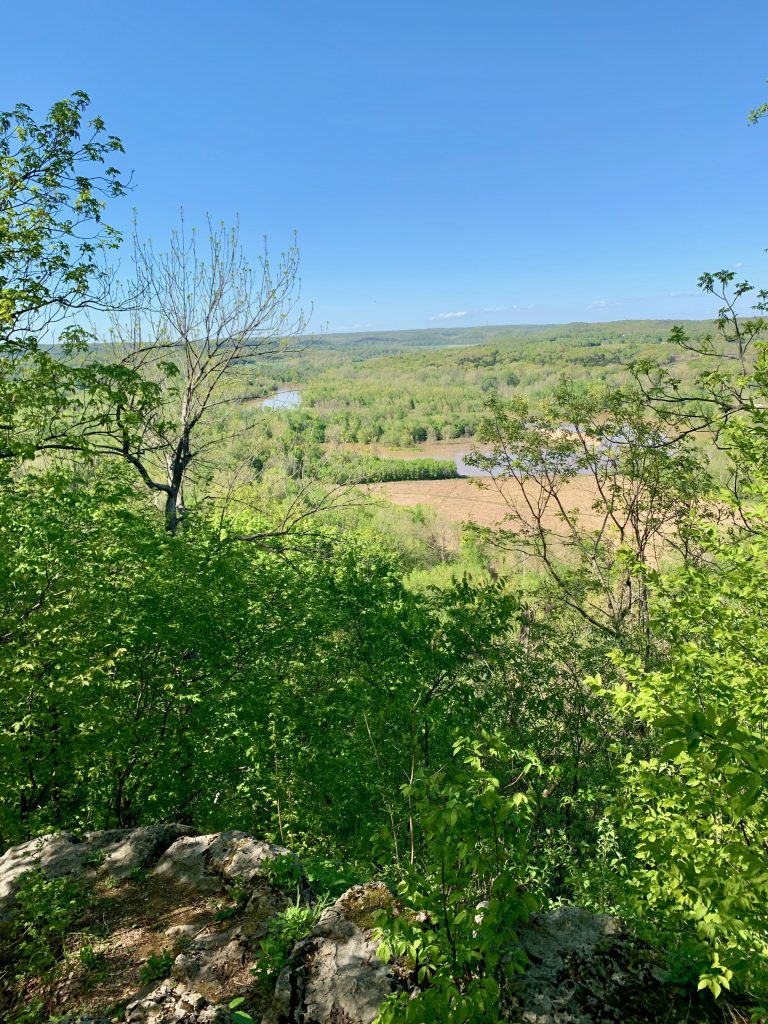 You then go along a dirt trail into the forest. You'll come out for a little bit into a "glade" which is actually the clearing for the electric wires. Then back into the forest. You cross the glade again and go downhill for a while, which Kareem was excited about.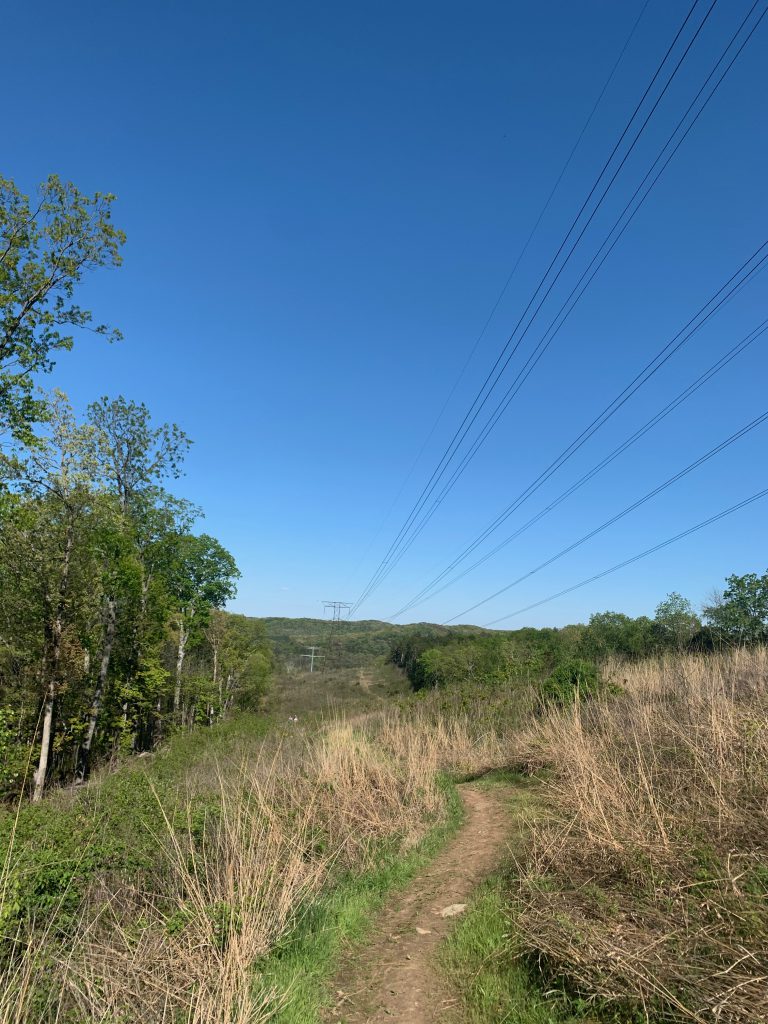 The dirt then gives way to grassy trail then back to gravel road. There's another rock ledge with waterfall that I imagine is completely dry if it hasn't recently rained.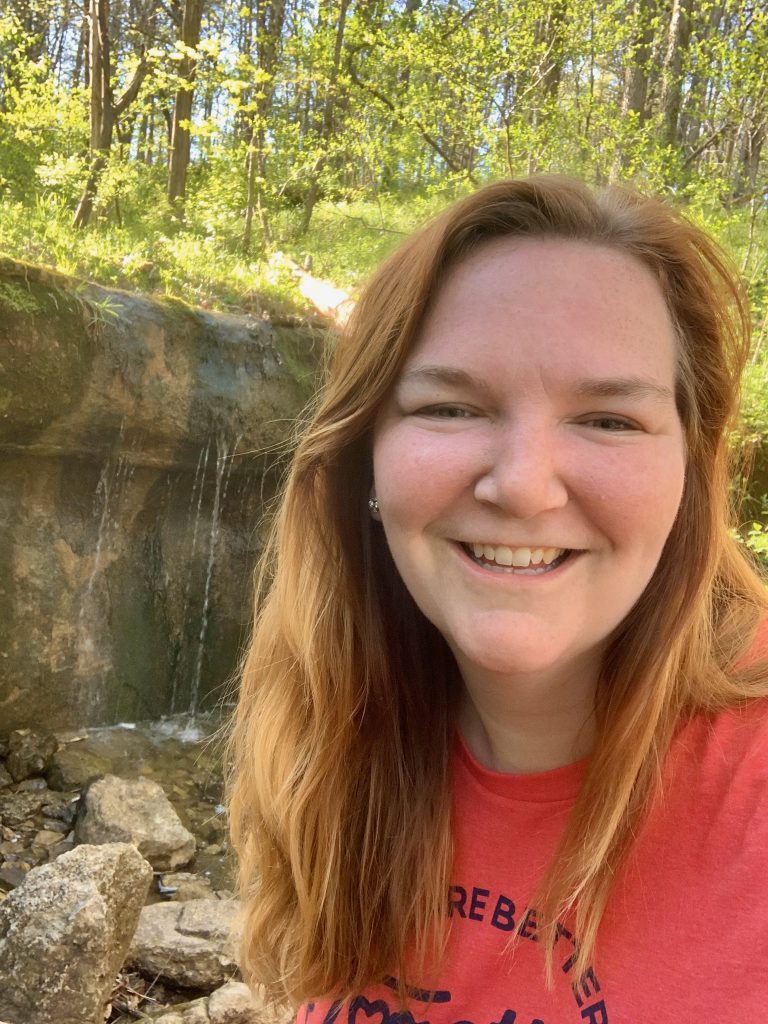 I'm really glad we checked it out! It was much less crowded than Young or LaBarque Creek, so it's the perfect quarantine hike.
Kareem's Hot Take: I really liked this one. It was a challenging hike- lots of ups and downs. It was a good workout because it felt there was a lot of incline, but really it was just pretty. Well-maintained. The paths were very clear. It wasn't rocky underfoot. It was really pretty- you get a little bit of everything. You get a lake, woods, a stream, waterfalls. Awesome views.